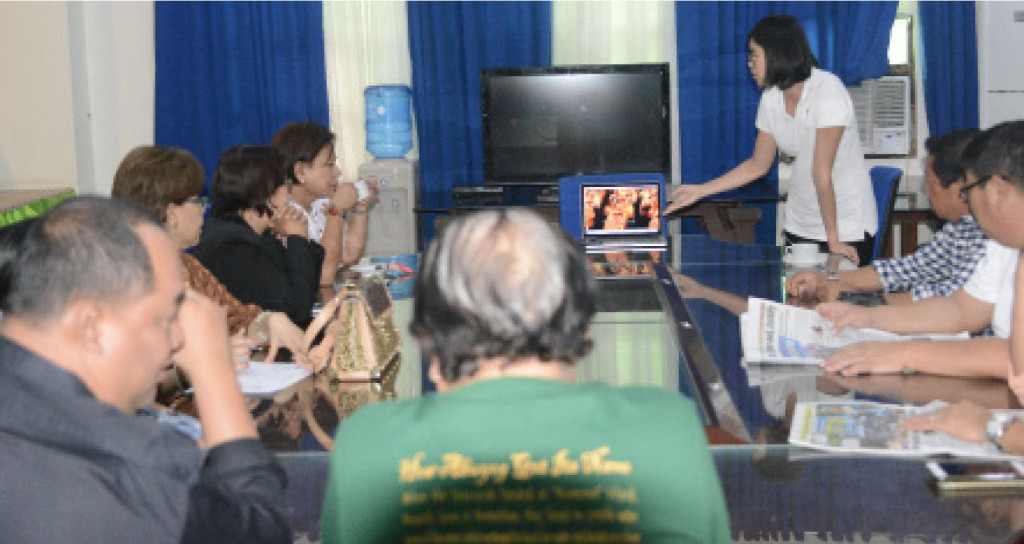 TACLOBAN CITY– Abuyog Mayor Octavio Traya, Jr. is enthusiastic since its town's Abuyog Festival has been invited by the International Association for Human Values (IAHA) of Malaysia to participate in the World Culture Festival on March 11-13, 2016 in New Delhi, India. Traya said he and the rest of the local government are enthusiastic about this invitation because this would be the first time the Philippines would send a representative to this global event.
"Our challenge is to raise PHP8million for the local travel expenses, international flights and food and hotel accommodation for a hundred dancers," the town mayor said.
The bee-inspired festival was just adjudged as best in street dancing (free interpretation category) in this year's Sinulog Festival. It also won 3rd place both as best musicality and in free interpretation categories of the said Cebu City-based cultural festival.
The invitation was personally hand-carried by Siaw San Liew to the mayor this week. Liew is the project leader of Philippines Empowerment Program of IAHA. According to Liew, the World Culture Festival will be attended by close to 3.5 million people from dignitaries, humanitarian organizations, cultural and art aficionados. The World Culture Festival is part of the Art of Living Foundation's 35th year which is spearheading the event. In the invite, it was stated that Leyte province, being one of the critically impacted regions in the country by the climate change, is a voice that needs to be embodied in this massive event.
Thus, the invite added, it would be a great opportunity to send the best of Leyte to the World Culture Festival to perform in behalf of the Filipinos as a way to express their gratitude to the world for the help received after supertyphoon "Yolanda" (Haiyan) devastated the region. Mayor Traya said Buyogan boasts of its new colorful costumes patterned to the different shapes and colors of a bee and mimicking its bee life to the beat of distinct Buyogan music.
Legend has it that Abuyog has a mystical creature popularly known as Opayda who was said to be a good fairy who helped cure victims of bee stings and guides fishermen safely back to shore through her magical voice. Buyogan was the champion in the first Leyte Kasadyaan Festival in October 1996. It was adjudged Hall of Famer after it became a champion five times since that year. As Hall of Famer, it was not allowed to compete until it made a comeback in 2007 and won again in the twin-billed Pintados-Kasadyaan Festival held in Tacloban City to celebrate the city fiesta. In 2009, the well-loved Buyogan Festival created history when it swept in both Cebu City's Sinulog Festival- champion in the free interpretation category and best in street dancing.
It won the Aliwan Festival on April that year, a competition of the 17 best regional festivals in the country at the Quirino Grandstand in Manila organized by the Manila Broadcasting Company and brought home P1 million cash prize. After the Yolanda tragedy on November 8, 2013, it didn't compete in any festival due to financial constraint as the costumes and props were destroyed by the supertyphoon. It was a guest performer though in the Pintados in 2014. It did a smashing comeback in the 2015, winning both the Sinulog and the Pintados-Kasadyaan Festival of Festivals.
(VICKY C. ARNAIZ)