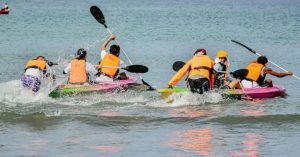 TACLOBAN CITY– The city government of Borongan in Eastern Samar is boosting its tourism industry through water sports tourism.
Last Sunday (Sept.3), the city government through its tourism office launched the first ever kayak race, a water sports event, participated by 10 teams.
The holding of the kayak race, dubbed as 'Padul-ong Fun Borongan Kayak Race,' was incorporated as part of the events of the city's annual fiesta celebration which is observed every Sept.8 in honor of its patron, Our Lady of Nativity.
Rupert Ambil, city information officer and who is also in charge of sports activities, said that considering that Borongan City, the provincial capital of Eastern Samar province, is 'blessed with the natural playgrounds of the sea,' makes it an ideal place for kayak event.
"We are clustering the riverside and coastal barangays in the north, south, and the city center to create a series of kayak races that will compete for the main event," he said in a statement.
The kayak race had two routes: starting from Baybay to Ando Island to Divinubo Island and from Barangay Bugas to Brgy. Camada.
Ambil also said that Borongan City could host a national kayak race event and not just confine it as a local sporting competition.
"Almost all local government units and resorts in the country have kayaks. This can evolve into a national open competition, fostering inter-town rivalries while also promoting Eastern Samar as a nature and adventure destination," he said.
Kayaking is a water sports event that involves the use of a small sea craft, kayak, which has double- a bladed paddle.
The city government under Mayor Jose Ivan Dayan Agda, has been pushing to transform Borongan as a tourist destination by coming up with various events, aside from its natural attractions like its white beaches and waterfalls.
The city, for one, has been holding for years now a national surfing competition, attracting some of the country's known and best surfers.
(JOEY A. GABIETA)