Major sponsor for this event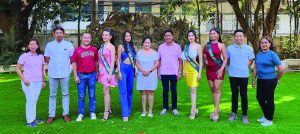 TACLOBAN CITY– The city of Borongan in Eastern Samar is among the sponsors of this year's Miss Philippines- Earth as it prepares for the hosting of the said major beauty pageants of the country in 2024.
This was confirmed by Mayor Jose Ivan Dayan Agda who said that they are happy that Borongan City will serve as host in next year's staging of Miss Philippines-Earth.
Borongan City will become the first city in Eastern Visayas to become a sponsor and a host of a national beauty pageant.
Agda said that the city government will allocate P3 million for staging the Miss Philippines0 Earth next year which will be held at the city's Baybay beach.
Mayor Agda said that he is happy that the Miss Philippines- Earth organizers have chosen Borongan City as a sponsor for this year's staging and as a host for the 2024 edition.
This only indicated that they acknowledge the efforts of the city government and its people in preserving the environment.
"Miss Earth (Philippines)' advocacy is similar to the city's vision of environmental preservation and protection, especially in our campaign to protect our remaining rain forest as it helps us in avoiding being hit by big typhoons," Agda said.
On top of this, hosting the environment-themed national beauty pageant will help promote the city and the rest of Eastern Samar as a tourist destination, the mayor added.
The city mayor said that the organizers of the beauty pageant led by its president, Lorraine Shuck, visited Borongan last Monday to personally see the city.
This year's Miss Philippines-Earth 2023 will be held on April 23 with 31 candidates vying for the title. (JOEY A. GABIETA)