In the wake of guv's killing, village polls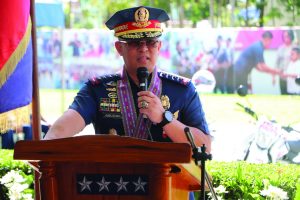 PALO, Leyte–The Philippine National Police (PNP) is now doing its assessment on hot spot areas across the region as the country is set to conduct barangay and Sangguniang Kabataan (SK) elections this October.
This way, this could prevent a similar occurrence on the shooting and killing of Negros Oriental Governor Roel Degamo, says PNP Chief, Gen. Rodolfo Azurin.
Azurin was in Palo town where the regional headquarters of the PNP is located for a visit on Tuesday (March 28) where he led a command conference.
"As of now, we have started our assessment for hot spot areas and threat assessment of every politician in every region so that we can prevent a similar occurrence in Negros Oriental," the PNP chief said in a press conference.
Asked if the province, this early, will be considered as a hot spot, Azurin declined to say saying they are still on the process of assessment.
The identification of hot spot areas by the PNP is also in compliance with an earlier directive issued by President Ferdinand Marcos, Jr. to both police organization and the Department of Interior and Local Government to ensure peace and order in the country and also dismantle any private armed groups.
Azurin has also called on the politicians to also help them by not doing anything that will result in the stabilization of the peace and order situation.
"As part of our request also to the politicians, for them to ensure that everything should be peaceful, everything should be done fairly and squarely…," he said.
Azurin also made an assurance that the killing of Gov. Degamo will be resolved as they are working closely with other security agencies of the government like the National Bureau of Investigation to arrest those who are responsible.
The PNP chief also added that they are with the President to make sure that the country's peace and order situation will not disturb in order to attract more investors and tourists to come to the Philippines.
JOEY A. GABIETA/LIZBETH ANN A. ABELLA