Director Gualberto says it's a nationwide rate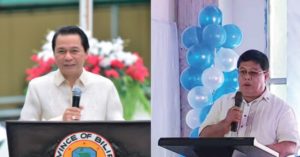 TACLOBAN CITY- Biliran Governor Rogelio Espina is seeking justification on the new rate imposed by the Land Transportation Franchising and Regulatory Board (LTFRB) for public utility vans plying here in the region.
Espina is the first public official in the region to call the attention of the LTFRB on the new fare rate which charges P2 per kilometer from the passengers point of origin to their destinations.
The P2/km fare rate took effect last week which resulted for passengers using the public utility vans as their means of transportation openly complaining saying it was 'too high.'
"It has come to the attention of this office that our constituents in the province, especially the commuting public, are having complaints on the abrupt and sudden fare rate increase of V-Hire to and from the province of Biliran. Relative herewith, we would like to respectfully inquire and request from your good office for justification of the fare hike," Espina said on his letter addressed to LTFRB Regional Director Gualberto Gualberto dated Jan.16.
Before the imposition of the adjustment fare rate for public utility vans, the fare rate for Naval-Tacloban City route is just P130.
But with the new rate, the rate fare is now P250 or almost double from the previous rate.
But LTFRB Director Gualberto said that the new fare rate should have been enforced back in 2007 and is being implemented in other parts of the country.
But with the increases of prices on gasoline and spare parts in the past years, the transport groups have sought for the 'restoration' of the P2/km rate from the previous P1.40/kms rate.
"We should also understand the (situation) of our transport group. This P2/ km rate was supposed to take effect back in 2007 but it was only in 2019 that they have petitioned to restore it and we approved it considering on the increases of gasoline and spare parts," Gualberto said.
And in return of this approval, Gualberto said that they have mandated the operators to improve their services for the 'convenience and safety' of the riding public.
For one, he said, vans should always be on a seating-capacity which means only 15 passengers should be allowed and should be air-conditioned.
"We are after the convenience and safety of our passengers. We will issue them a show cause order if they will not follow this (conditions).We will the (appropriate) action to complaints by our riding public," Gualberto said.
Teams have been deployed in different terminals by Gualberto to ensure that these conditions are being followed.