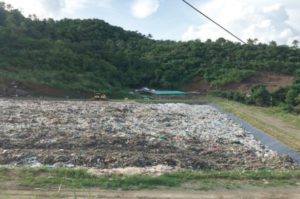 TACLOBAN CITY- As the city's Sanitary Landfill (SLF) in Barangay San Roque is about to reach its full capacity after less than a year of operation, the city government under Mayor Alfred S. Romualdez has urged barangay leaders to support the waste segregation efforts of the local government to minimize the volume of garbage generated in the city.
According to the Officer-in-Charge of the City General Services Office (CGSO) Engr. Leoncio Parado II, barangay chiefs should set a good example to their constituency regarding garbage management.
"They should conduct intensive monitoring for they already knew it (garbage segregation) since then. Anyway, it's one way to ensure the participation of their constituents in the proper disposal of their wastes," he emphasized.
"We already had this ordinance on Solid Waste Management (City Ordinance 2017-13-37), so I guess there's no reason not to implement it in their respective barangays," he added.
Meantime, Parado clarified that the delays in the collection of garbage in the past days were due to the expiration of contracts of the three service collectors.
The local government is set to renew the contract of two contractors within the month, while the third contractor will be replaced, the official said.
He also mentioned that while the contractors for this year will soon be finalized, residents are assured that the city's sanitation will be maintained.
"As of now, we will not yet change the schedule for the collection of garbage. We will just follow last year's schedule to avoid conflict," Parado added.
Meanwhile, the CGSO, City Engineers Office (CEO), and City Environment and Natural Resources Office (CENRO) have joined forces to do the collection of the uncollected trash in some parts of the city, which was aggravated by the onslaught of Typhoon 'Ursula' last December.
"We should help one another in implementing waste segregation and maintaining the cleanliness of our surroundings. Otherwise, our sanitary landfill will suffer once it reaches its capacity," he concluded.
Meantime, those who carelessly dispose their waste may face the following penalties under the Solid Waste Management Ordinance of the city: first offense – a fine of P300 or render community service for 1 day; second offense – A fine of P1,000 or render community service for two days; and third and subsequent offense, a fine of P3,000 or render community service for not less than three days.
As of December 2019, a minimum of 120 tons of trash are generated in Tacloban City daily. –
(C. MERIN/CIO)