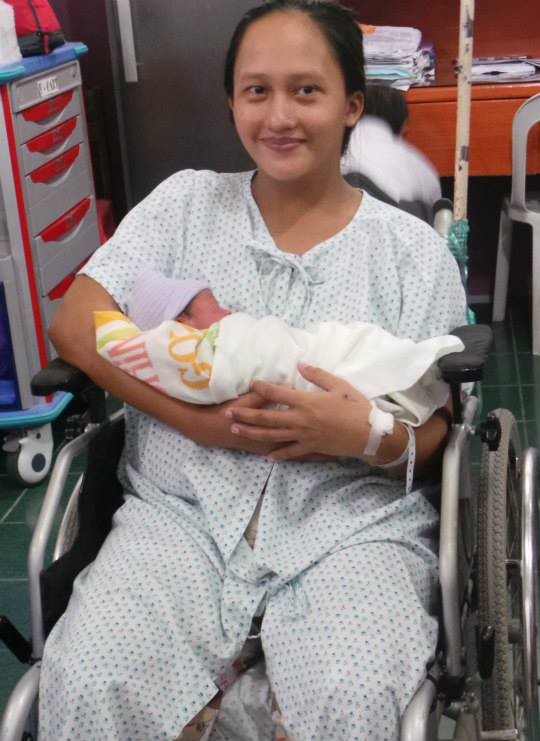 TACLOBAN CITY-Eastern Visayas' contender for the search for the 100th million Pinoy was a "healthy baby girl," born to a young couple of this city. Rian Go was delivered by her mother, Glea Denise Ragasa, at 12:38 a.m. on July 20, Sunday, at the Eastern Visayas Regional Medical Center, Tacloban, via normal delivery. Rian measured 49 centimeters in length and weighs 2.7 kilograms, a sign that she was healthy as she weighs 0.2 kilograms than the ideal weight for a full nine months baby.
"Of course we are happy and we never expect that she will be chosen as such," the proud and beaming father, Romnick Go, 26, said. He and Denise have been living as a couple for four years now and have a baby boy, Rain, now 11 months old. The couple lives at Barangay 83, San Jose District, incidentally, the hardest-hit area when Supertyphoon Yolanda pummeled this city. "Baby Rian really symbolizes hope and challenges; that she and her family could really surmounts all the challenges that will come their way and at the hope that they will emerge as (triumphant) especially after Yolanda," Doctor Paula Sydiongco, assistant regional director of the Department of Health (DOH), said in a press conference held at the EVRMC.
The search for the 100th million Pinoy is initiated by the Commission on Population(Popcom), an attached agency of the DOH. Romnick said that they were expecting that their new baby will come out next month yet but on Saturday night, his wife told him that she was having pains. "So I immediately brought her at the EVRMC and after almost two hours of labor pains, she delivered our second baby," Romnick said. Romnick, a businessman, said that he would ensure that both Rian and Rain would have a good future.
"We will do what we can to give them a good future; providing them all their needs," he said. The proud father said that having a boy and a girl as children would be enough.  Doctor Catherine Sarcia, who is just less than a year assigned at the EVRMC, led in the delivery of baby Rian. She said that she was "proud" that she was involved in the delivery of Rian, the region's contender for the 100th million Pinoy search initiated by the Department of Health and its attached agency, the Population Commission (Popcom). It was learned that at the strike of 12:06 a.m. on July 27, the country's population will reach to 100 million. The Philippines has more than 92 million population as of 2010 census, conducted every five years. Of the same census, Eastern Visayas ranks 7th as the most populous region at 4.10 million people spread on its six provinces. Tacloban, its regional capital has a population of 221,174 covering same year.
However, with a growth rate of more than 2.4 percent, its current population is estimated at more than 240,000.
As the regional winner, the DOH gave them a baby provisions worth P5,000 like cloths diaper.(LIZBETH ANN A.ABELLA)