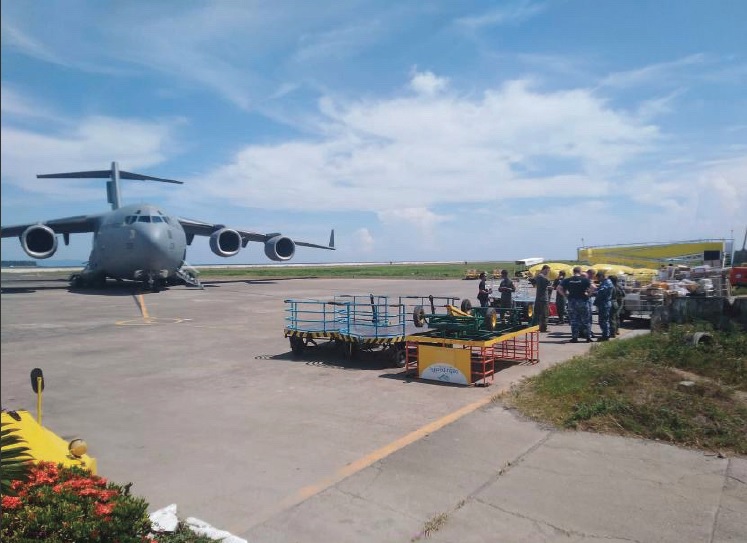 No one was hurt among its 46 passengers
By: Joey A. Gabieta
TACLOBAN CITY-An Australian Air Force aircraft had an emergency landing at the Daniel Z. Romualdez Airport (DZR) Airport, this city, on Saturday loaded with 46 passengers.
The Royal Australian Air Force Aircraft ASY 727, a Boeing C17 Globemaster III type of aircraft with Aircraft Registration A41-209 as described by the Civil Aviation Authority of the Philippines (CAAP) Tacloban Office, made the emergency landing at about 12:47 pm.
The airplane was from Kadena, Japan and was on its way to Edinburgh, South Australia, when it had its emergency landing at the DZR Airport, CAAP said in a statement.
While the reason for the emergency landing of the Australian Air Force plane has yet to be known as of this writing, a source said that fumes were observed emitting from the aircraft cockpit, forcing the pilots, Captain Matthew Dank and Kurt Ehrlich – Senicic, to make the emergency landing.
None of the 46 passengers of the aircraft were reported to have been hurt due to the incident.
CAAP Tacloban, through its Air Traffic Service (ATS), Crash Fire Rescue (CFR) Unit, and Security and Intelligence Service (CSIS) made a quick response to the aircraft carrying 46 crew members and aircraft officials.
Based on the initial information from Tactical Operations Group (TOG) whose headquarter is located inside the airport premises, the Australian Air Force was loaded with eight crew members and 38 passengers.
CAAP, in a statement, said that the incident caused a blockage at the airport's south taxiway reason why the facility's newly-reblocked north taxiway was opened to ensure that the operations of the DZR Airport will not be affected.
DZR Airport is considered to be the main airport of the region and is one of the top 10 busiest airports in the country.
As of this writing, the aircraft is still at the airport's Bay 1 ramp where it will stay while waiting for the arrival of needed spare parts.
All the Australian passengers stayed in a nearby hotel.