Slowly building its cruise tourism reputation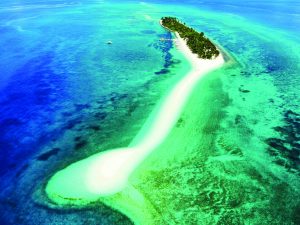 TACLOBAN CITY– An international cruise ship is set to drop anchors at Kalanggaman Island in Palompon, Leyte this November.
This was disclosed by its information officer, Raoul Bacalla who said that this early, they are preparing the island for the visit of the Coral Adventurer, an Australian-based cruise ship.
Bacalla, who also serves as the municipal environment and natural resources officer, said that they are excited with the coming of the international cruise ship which is expected to have in board over 120 foreign guests.
As part of the preparations, the 6.8 hectares island known for its white and powdery sandbars and clear water, had a weeklong cleanup held early this month with additional cottages to be constructed, he said.
Kalanggaman Island is not only considered to be the top tourist destination in Palompon but is also known as the tourism jewel of Eastern Visayas.
The November visit of the Coral Adventurer is not the first international cruise ship to visit Kalanggaman. In February of this year, the Silver Shadow, a Monaco-based Silversea fleet also docked at the famed island carrying over 300 guests.
"The visit of this international cruise ship is so timely because November is an abre grande of Palompon. That means, the grand opening of all festivals in Palompon and every day, there are activities," he said.
Most of these activities include water sports like kayak marathons and dragon boat races.
The visit of international cruise ships to the island is a testament that Kalanggaman Island is slowly becoming a favorite site, particularly among foreign guests.
Bacalla said that while they are happy with the visits of international cruise ships to the island, what excites them more is the big arrivals of local tourists to their town, notably at Kalanggaman Island.
In fact, he said, of the more than 150,000 tourists that visited Kalanggaman Island last year, only 10 percent of them were foreign guests.
"One thing that we have learned is that here in Leyte, including Palompon, most of the tourists are locals. If we maximize this, our tourism industry can survive. Families now travel," Bacalla said.
Bacalla disclosed that last year, tourism receipt of the town reached P26.7 million and for the first seven months of the current year, they have generated over P20 million.
He is optimistic that with the remaining three months of the year, they could achieve their target of P28 million in tourism receipts for this year.
(JOEY A. GABIETA)