A post-Valentine's day program was held at the Bureau of Jail Management and Penology (BJMP) in General Trias City last February 16, 2023.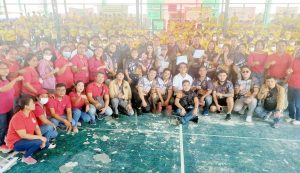 The activity, which was dubbed FEB-IBIG, "Feeding the PDL, Tummy, and Soul Project," was conceptualized by the ALS (alternative learning system) focal person Rizal M. Vidallo.
The project aimed to provide a free meal for the 360 persons deprived of liberty (PDLs) currently enrolled in the ALS in the Division of General Trias City in Cavite.
This joint project encourages cooperation among different organizations and is part also of intensifying the pilot implementation of the Senior High School ALS program.
The said activity supports the principle of inclusive education which aims to provide free access to quality education for all especially those students who are in a very challenging situation like the PDL and the out-of-school-youth.
As a designated District ALS coordinator, I volunteered to eye for a sponsor for the free meal of the PDL ALS learners.
The event is a matter of fortuity when I remember my long-time friend and a college classmate PMSgt. Maximillan E. Ballicud from the Philippine National Police(PNP) and is also a member of the Fraternal Order of the Philippine Eagles a socio-civic organization known for charity works and humanitarian activities.
I told him in an assertive manner, "Pare, isipin mo nalang na ito ay ibang level ng bonding natin, on the professional level naman, kakaiba sa mga pinagsamahan natin nung tayo ay nag-aaral pa na madalas baso ang nasa lamesa. Ngayon ako ay guro, ikaw naman ay Agila at nasa PNP pa".
Upon laying down the purpose of the activity to him, with high in spirit, he directed me to wrote a formal letter to Dr. Joben Cañal the NCR Charter Governor of Philippine Eagle/MATATAG 66 to accept our invitation and to be the principal sponsor for the free meal. Few days after, Dr. Cañal called me via phone confirming his acceptance of the said invitation.
Present during the program were the members of the Fraternal Order of Philippine Eagles (MATATAG NCR LXVI) with its Charter Governor Joben Cañal, Ramy R. Dalida, the school principal of Governor Ferrer Memorial Integrated National High School, the Curriculum on Instruction and Development Chief Laura O. Garcia and other Education Program Supervisors. During the program, three PDL-ALS students were surprised and got emotional when they received recorded video messages and letters from their relatives and parents.
Mr. Dalida, the school principal in his message shared one of Nelson Mandela's quotes, "A fundamental concern for others in our individual and community lives would go a long way in making the world the better place we so passionately dreamt of."
(Note: The author is the district ALS coordinator of the General Trias Division)