Leyte Park was built by Imelda Marcos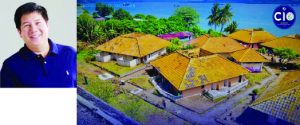 TACLOBAN CITY-Mayor Alfred Romualdez of this city has said that the city government would no longer borrow money from the bank to rehabilitate the Leyte Park Hotel (LPH).
This is in contrary to an earlier plan of the city government to secure a P500 million from the Land Bank of the Philippines for such purpose.
The city government was able to get the go signal from the Tourism Infrastructure and Enterprise Zone Authority (TIEZA), an attached agency of the Department of Tourism which has a stake of the 6.1-hectare property constructed in 1979 by former first lady Imelda Romualdez Marcos, aunt of the city mayor.
Aside from the TIEZA, the property is also owned by the provincial government of Leyte and the Privatization Management Office.
The property, located along Magsaysay Boulevard, was part of the Marcos properties sequestered by the government suspected to be part of the ill-gotten wealth.
"I went to the Land Bank two weeks ago to tell them that we don't need the loan because we have we enough money," he said on Thursday (June 1).
On that day, Romualdez led a kick-off program opening the facility for various activities related to the June 30 city fiesta.
A portion of the hotel has been used for carnival and barbeque stalls and other city government-sponsored events in connection to the city fiesta.
Mayor Romualdez also disclosed that the design of a master plan for a rehabilitated hotel is now on the 'final stages.'
The city mayor disclosed that aside from the hotel itself, the property will also have a convention center, an IT park and for other commercial purposes.
The property has been operated by a private corporation in 1994 and been abandoned in 2021 after it did not renew its lease contract.
Last year, Mayor Romualdez signified his intention for the city government to take over and manage the facility.
The hotel, located on a hill overlooking the San Juanico Bridge that links the islands of Samar and Leyte, had 110 rooms, with our pool villas, infinity pools, spa center, several restaurants, and a convention center that could accommodate 2,000 people.
(JOEY A. GABIETA)