"Project held in abeyance"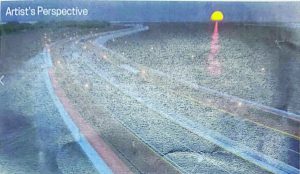 TACLOBAN CITY– The P3.46 billion causeway project in this city is in danger of being cancelled.
This after the city council approved a resolution calling the Department of Public Works and Highways (DPHW) to 'hold in abeyance' the said project unless all issues surrounding it would be cleared and threshed out.
The proposed 2.566-kilometer causeway project is envisioned to serve as an alternative route going to the Daniel Z. Romualdez (DZR) Airport, located in San Jose district, from the city proper.
To recall, the Sangguniang Panlungsod, in a resolution authored mainly by Councilor Aurora Aimee Grafil, directed the DPWH in the region to address first several issues before they could be allowed to proceed the project.
Based on Resolution 15-88 issued on May 25 this year, the council members said that they have learned that the DPWH has failed to include an environmental study on the Cancabato Bay, where the proposed causeway will traverse.
It said that Cancabato Bay was declared as a marine protected area in Ordinance No.2003-8-138 which prohibits against industrial wastes and pollutants.
It also said that under its zoning ordinance, Cancabato Bay was identified as a 'not a stand-alone bay.'
"Moreover the causeway project would greatly affect the environment, impacting the fisherfolks in Tacloban City," the resolution added.
But despite of the opposition of the city council, the DPWH region headed by Engr. Edgar Tabacon said that he is willing to meet and discuss with the council members and come up with a 'win-win solution.'
Tabacon said that the project is not only huge in terms of budget allocation but its purpose which is to cut the travel time going to the DZR Airport.
"This is for us. This is for Tacloban. It will help our people going to the airport. We have also secured an ECC (environmental clearance certificate) from DENR as early as 2019," he said on Friday.
It was learned from Tabacon that the causeway project has been in the pipeline since 2018.
Tabacon also explained that the causeway project will not hinder the flow of water flow at the Cancabato that may cause the death of marine life there.
"The causeway project is not just the ordinary causeway as it also includes a bridge and box of culverts…which will not block the water and even affect the marine life there," he said.
According to him, the causeway will just measure 300 meters each from the city proper and the airport sides. Its bridge has an elevation of five meters from the sea level.
Tabacon said that under the plan, the causeway project should be completed within the year. Otherwise, the fund will be reverted back to the national coffers.
JOEY A. GABIETA/LIZBETH ANN A. ABELLA