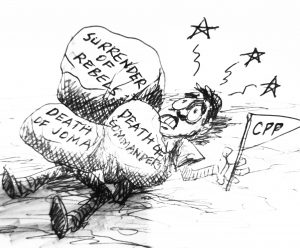 As of this writing, on the 26th of December, the Communist Party of the Philippines (CPP) and its front and allied organizations were supposed to celebrate its founding anniversary. This year, however, it's going to be a lot different than their past anniversaries which they celebrated with fiery festivities.
Tree things could make the difference: first, numerous communist rebels throughout the country have already surrendered to the folds of the law; second, many of their key leaders have been apprehended and killed in combat; third, their founder-leader Jose Maria Sison has just died, leaving their organization without a smooth leadership transition.
Surely, these are great blows to their overall network. And although their old leader will soon be replaced, the other two blows are not easy to recover from. They would have to strengthen their recruitment and propaganda activities to bring back to their fold those mass supporters and leaders who have already abandoned their units. As to their commanders who have been killed in combat, there is no way they can recover their lives.
A fourth blow could still be added, which is the deployment to Samar island of some 400 combat-trained soldiers tasked to annihilate the remaining fronts, which are said to be the biggest number of remaining communist rebels in the country. Once these soldiers, fresh from a rigid training from Australia, are fielded to the mountains, they would face some elite troops.
Given all these, how can the CPP-NPA-NDF and their front/allied organizations celebrate their anniversary with a big bang? Instead of a jubilant anniversary, they might as well mourn over these things since, from the looks of it, these developments are rather demoralizing. The fact that they have been waging war for more than fifty years without winning it is the most demoralizing of all. It's time to give peace a chance by ending this longest insurgency in history.