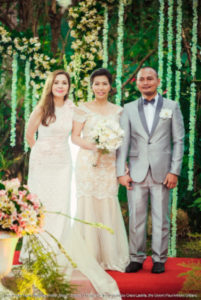 By Frances Rodelle B. Go
When a man meets a woman at the most imperfect moment but on God's perfect time, just when they thought things weren't going as they hoped them to be, God had His own way of showing His perfect plan in one of the greatest stories of love. A match made in heaven tested by time, distance, challenges and catastrophes, literally especially when it has endured supertyphoon "Yolanda". Everything actually started off with a maybe when Paul never knew who the real "Ruby Grace Lastrilla" and the details about her life including her family. Years passed, struggles literally became real. The "maybe" became the "yes". We didn't even see it coming but Paul and Grace proved that even fairy tales exist. It was never easy for both of them. Doubts here and there… trials everywhere.
"Paul, who wanted to prove himself to my family was set to leave for abroad but typhoon Yolanda happened," narrates Atty. Ruby Grace Lastrilla-Ortillano. "God provided a way for US TO BE TOGETHER." Our Romeo's (Paul) only fault was to fall in love with a girl who came from a traditional, very conservative Chinese family. But that alone didn't scare him goodbye. Not at all. To some it may be ironic but to those who witnessed how these two fought for LOVE, it's inexplicable happiness and sweet "FINALLY!" True love indeed CONQUERS. It conquers even distance. Their DIFFERENCE in FAITH… Several attempts by The Don Robert to break them apart were fruitless. She was set to lose her inheritance but that did not matter, they still decided to be together.
On June 22, 2016, two different worlds finally connived as one and vowed for a lifetime commitment to be each other's protector, friend, confidant, and partner. An intimate afternoon filled with so much love, laughter, and tears of joy as families, relatives and close friends gathered together to witness the civil wedding of Paul Anthony Ortillano and Atty. Ruby Grace Allawan Lastrilla. And it all transpired at the breath-taking view and lovely ambiance of Rafael's Farm in Babatngon, Leyte made more enchanting with a combination of ultra-romantic classic fairy tale setting and country-inspired rustic setting. The ceremony was officiated by no other than City Mayor Cristina Gonzales Romualdez. Paul Anthony Ortillano is the son of Pablito Sr. and Antonieta Ortillano from Daram, Samar while Atty. Ruby Grace Lastrilla is the daughter of Ma. Norma Lastrilla and Robert Lastrilla from Tacloban City.
Two totally different individuals who seemed to live worlds apart, but simply fate had its ways. And like what an unknown author once said, "Love knows no reason, no boundaries, no distance. It has the sole intention of bringing people together in a time called forever" and so love did just that for this unlikely couple. From friends, they became sweethearts for six years and finally, after all the trials and challenges, and as God proved to be more powerful than any forces of nature and man, they are now to face life together as husband and wife.
It was a beautiful and romantic garden wedding, thanks to the couple's "Dream Team" – Leo Empillo Omoy, one of the best if not the best wedding coordinator in the region, who never fail to work his magic in turning dream weddings into realities and to the members of his team, Archie, Satchie & AJ; to Galvhin Ray Contresas (Photographer) & Janry Inot (Videographer), both the Masters of their Crafts in capturing the most unforgettable moments of the celebration of love; to Ariel Ortiz , the artist behind the gorgeous bride's prettiest day ever and Irene Gorgonia for her stunning gown; Lady Suzette (Marie Daryl Gariando-Baño, Steve Noel Baño & Jairus Campo) & String Ensemble for filling up the place with heart-warming melodies; Jonard Lights & Sound; Rene Tampil of Rafael's Farm for the scrumptious dinner & picturesque venue; Jessie Chua for the CAKE; Marilyn Go-Uy for the Cocktails and Desserts and to everyone who laboured behind the scene in giving the fabulous pair their Most Memorable Dream Wedding and a Walk to Remember as they journey off to the Greatest Adventure of their lives as a married couple. Congratulations MR. & MRS. PAUL ANTHONY ORTILLANO!!! May you continue to be God's living testaments of True Love. Cheers to "Happily Ever After to our Modern Day Romeo and Juliet"!!!