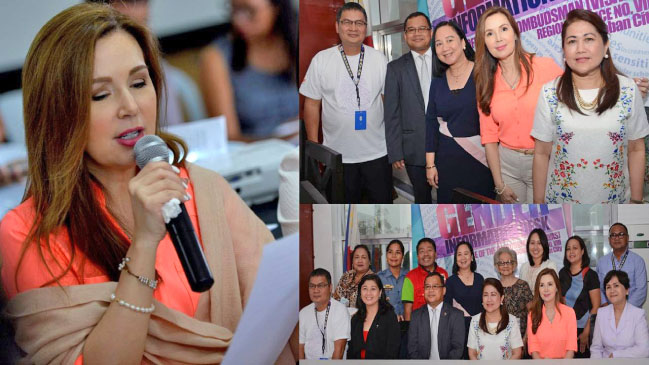 TACLOBAN CITY-The Office of the Ombudsman field office in the city has established a gender information desk (GID) for the effective implementation and responds to gender matters involving complaint against government officials. Deputy Ombudsman for the Visayas, Paul Elmer Clemente, who led the opening of the GID said that the rooms were designed to create a safe space that respected the privacy and reduce trauma for women survivors of domestic violence. Legal officers, and their staff as well as their partner agencies like public attorneys, police investigators, psychiatrists, public health personnel and social workers underwent gender sensitivity training.
Lawyer Eduardo Kangleon, Ombudsman acting regional director, ensured that their particular staff and partner agencies are fully equipped with knowledge on judicial guidelines, the environment of the office were sensitized to consider the needs of the victims, and that they had the capacity to fully implement Domestic Violence Law in according with CEDAW (Convention on Elimination of All Forms of Discrimination against Women) guidelines. "We focuses on sexual violence that affects women and children, because of its prevalence within the reality of sexual and gender-based violence in fragile and conflict situations, and on justice sector and related reforms that may effectively deliver justice and redress to victims as well as successfully hold perpetrators accountable,' Atty. Kangleon said. Support to stand tall In Tacloban City, Marta, (not her real name) a 35 year old mother of two children was trapped into a violent marriage. According to her, she tried several times to seek help but had no success.
Eventually she turned to the Tacloban Women Shelter, a facility run by the city government for abused women and children. And with the help of the center, Marta recovered from trauma and abuse. She also gained the confidence to bring her case to court. "The therapy made me see things for what they really were. It brought me out of the darkness," Marta said. Tacloban Women Shelter is now a safe home for more than hundreds of women and children survivors of domestic and gender violence in the city. Through this project of Mayor Cristina Romualdez since she was still a councilor of the city, the institution provide dignity, shelter, food, legal counseling, livelihood skills and leadership training to women.
According to Mayor Romualdez, it helped to expose the issue of domestic violence in the city and it strengthen the empowerment of women to better reduce the effects of economic insecurity, which often leads to discrimination and violence against women. "Consistent support will encourage women suffering and victims of domestic violence to step out and break the tolerant culture towards violence against women and current scenario of societal discrimination against women who walk out of abusive marriages," Mayor Romualdez said. "Just knowing that a safe home is available for them, it will be easier for women to take a step towards an abuse free life,' she added. (Photos by: TIM CANES/JESSA BACTOL-TISAT/Kanhuraw Media Team)