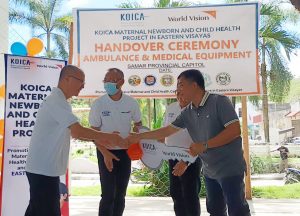 CATBALOGAN CITY – The Korean International Cooperation Agency (KOICA) and World Vision turned over medical equipment to four local government units in Samar province on Friday (Feb.24) as part of their program to end the problem of mother and child mortality.
Recipients were the towns of Matuguinao, San Jorge, Basey, and Marabut which are identified as areas for implementation of Maternal Newborn and Child Health (MNCH) projects in Eastern Visayas.
The ceremony was held at the Samar Provincial Gymnasium and attended by provincial health officer Dr. Madeline Ampatin; World Vision Korea Project Director Jihwan Jeon; World Vision Philippines operations director Ajab-aram Macapagat; World Vision Visayas field office operations manager Bonifacio Calapan; and recipient LGU officials.
Matuguinao also received a brand new ambulance from KOICA and World Vision.
"Matuguinao is thankful to Governor Sharee Ann Tan for endorsing our municipality to World Vision as recipient of an ambulance," Mayor Aran Boller said.
Boller said that having a new ambulance would make it easier for patients from their town to be transported to the nearest hospital for their medical needs.
Dr. Ampatin, representing Gov Sharee Ann Tan, said that among the focus of the provincial government is to implement programs that will address the mother and child mortality and to provide better access of pregnant women and new born children to health services.
"The governor's political will to help the maternal and child health care remains strong and she ensures that lasting mechanism which will support the universal coverage to the program and its services," she said.
The distribution of hospital supplies and equipment including ambulances is part of a three-year implementation of the project that will end in 2025 aiming to reduce child mortality before they reach five years old.
"This is just the beginning. We will keep on giving medical equipment depending on your need. We will also provide capacity building training to barangay health workers and nutrition scholars in our target area," Jeon said.
(ROEL T. AMAZONA)