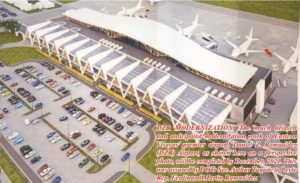 As assured by Sec. Tugade to Leyte Rep. FM Romualdez
By: Ronald Reyes
TACLOBAN CITY- Works on the modernization of the Daniel Z. Romualdez (DZR) Airport, this this city, would be completed by next year.
This was announced by no less than Transportation Sec. Arthur Tugade who said that the target on the completion of the region's premier airport would be on December, 2021.
Tugade's assurance came after Leyte Rep. and House Majority Floor Leader Ferdinand Martin Romualdez inquired about the progress on the DZR modernization project.
"Please be informed that the construction of the new terminal building shall be implemented by the Civil Aviation Authority of the Philippines (CAAP), and funding thereof was downloaded to it through a memorandum of agreement," he said on his letter to Romualdez on Feb.5.
"Together, we will make the Tacloban Airport a project of pride," the Secretary of the Department of Transportation(DOTr) added.
Tugade said that the modernization work at the DZR Airport is projected to be completed December of next year as the detailed engineering design(DED) would be finished March of this year with the procurement period to commence right away.
The actual implementation and construction of the new and bigger passenger terminal building (PTB) is expected to start this August, said Tugade.
"The DED is being prepared by a consultant (Urban Integrated Consultants Inc.). In fact, on January 31, the consultant presented the initial concept design," he said.
"The DED is originally scheduled to be completed in April 2020, but we requested the consultant to expedite the same by March 2020," he added.
For his part, Rep. Romualdez expressed his elation on this assurance made by Sec. Tugade.
"Sobrang excited na kami ng mga kababayan kong matapos 'to by December 2021,'" the Leyte solon said.
The national government has so far infused over P1.03 billion for the improvement of the facility whose modernization project has been stalled for years.
DZR Airport, located at San Jose District, is considered to be among the busiest airports in the country.
It was learned that air passenger traffic at the Tacloban Airport increased to 21.38 percent in the first semester of 2018 primarily due to additional flights to the regional capital.
Currently, it serves daily flights to Cebu, Manila, and Clark in Pampanga.