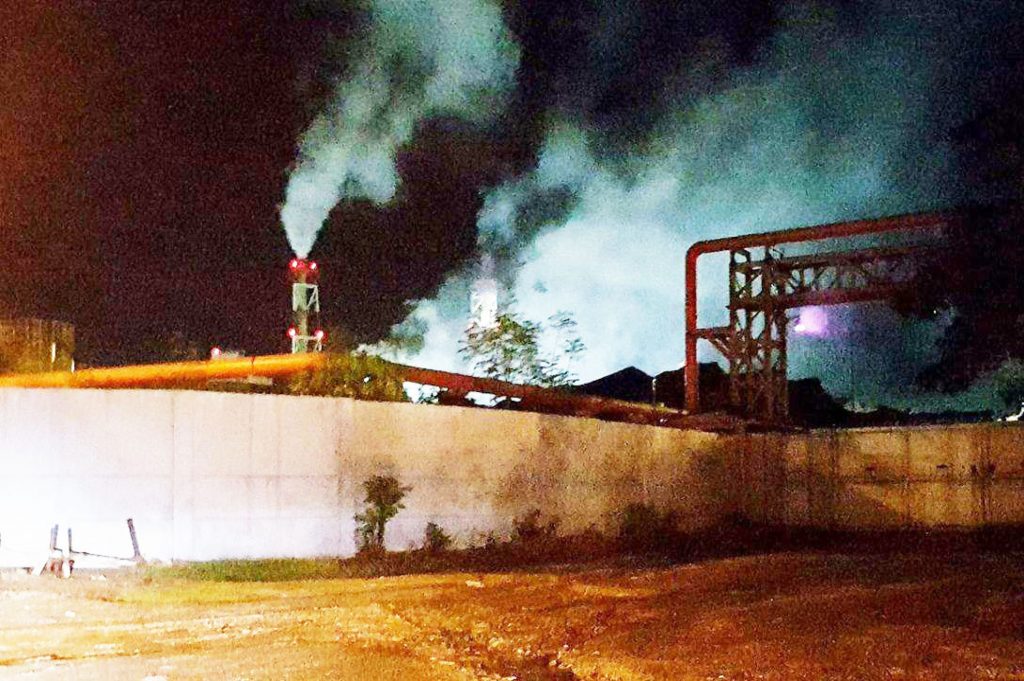 Pasar denies allegation
TACLOBAN CITY – Workers at the Leyte Development Industrial Estate (LIDE) in Isabel, Leyte has complained of what they claimed "foul odor" emitting from a processing plant owned by the Philippine Associated Smelting and Refining Corp. (Pasar).
Workers from other locators inside the industrial complex, particularly that of Philphos (Philippine Phosphate Fertilizer Corporation) claimed that the air coming from the Pasar plant has a "strong content of sulfur dioxide (SO2)," posing a health hazard to them and to the environment as well.
However, this allegation was strongly denied by the Pasar management saying they have been adhering to all environmental standards set by our government and their anti-pollution "protocols have been in place and working."
The Philphos workers, in a press statement obtained by Leyte Samar Daily Express, alleged that "strong to very strong levels" of sulfur dioxide (SO2) are being emitted from the Pasar processing plant which causes the alleged 'foul odor.'
They added that the Department of Environment and Natural Resources (DENR) through the Clean Air Act of the Philippines, has set 0.07 ppm allowable level for sulfur dioxide discharge.
But the workers, in their statement, claimed that the air readings at the area go as high as 6ppm.
The incident was said to have started since May of this year, they said.
Sulfur dioxide is a nonflammable colorless gas that has a strong and pungent odor causing irritation to the eyes, conjunctivitis and corneal burns.
Long exposure can cause irritation to the mucous membrane of the lungs and respiratory tract, bronchospasm, pulmonary edema, pneumonitis and acute airway obstruction can occur.
Moderate to high exposure can cause skin irritation, nausea, vomiting, and abdominal pain.
But in an email statement, lawyer Noli del Rosario, senior vice president for legal and corporate affairs of Pasar, denied the allegation.
He said that their company is complying with all environmental standards set by the Department of Environment and Natural Resources-Environment Management Bureau (DENR-EMB).
"In the last month, some quarters have complained of SO2(sulfur dioxide) emissions coming from Pasar alleging that these are of "mild", "strong" or "very strong" intensity," he said.
"These complaints are couched in qualitative and subjective terms incapable of precise measurement. Pasar has in place continuous emissions monitoring system or CEMS which records SO2 emissions in real time. With regard to the qualitative complaints raised, Pasar has not exceeded the TWA (Time Weighted Average) taken over any eight hour period," del Rosario added.
He also said that their company's anti-pollution protocols are "in place and are working."
The official also said that they will conduct an inspection of any possible leaks among their equipment on September 12 of this year as they will go on mandatory plant shutdown that will last for 15 days.
Pasar's primary product is electrolytic copper cathodes which are the raw materials used in the manufacturing of electric cables, telecommunication wires, and copper-alloy products which are exported abroad.