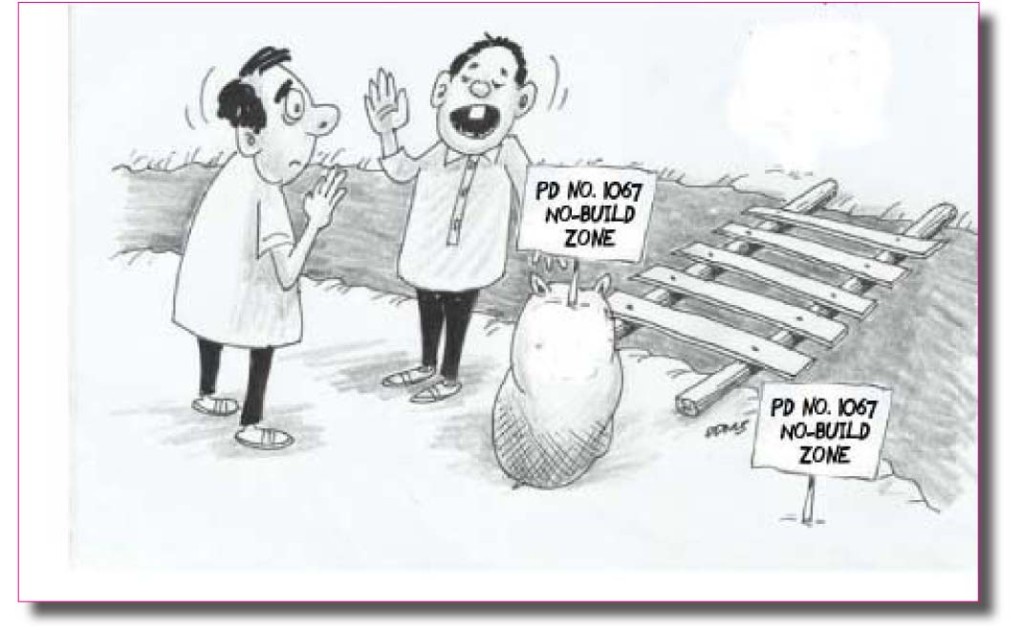 Three and a half months after the storm surge and hurricane-like wind of the traumatizing supertyphoon Yolanda have rendered thousands of families in 63 towns and 2 cities of Eastern Visayas homeless, hundreds of families yet linger in evacuation centers, tents and makeshift dwellings simply because there no resettlement made available for them. Worse than that, in utter desperation and urgent need to hide their frail bodies from the harmful elements of nature, there are those who have started reconstructing and have in fact rebuilt their homes in their original sites, which are categorized as "no-build zone" areas. They are gradually sprouting like mushrooms near riverbanks and shorelines.
Presidential Decree No. 1067 of 1976 (The Water Code of the Philippines) mandates an easement of certain distance from banks of river and streams and from shores of seas and lakes in either urban, agricultural and forest areas. The law explicitly provides an easement of three meters in urban areas, 20 in agricultural and 40 in forest areas. This easement is for purpose of public use in the interest of recreation, navigation, floatage, fishing and salvage. As the Department of Environment and Natural Resources authorities have stressed time and again, and in fact seen in signages posted in concerned areas, people are not allowed to build houses in areas for mangroves and beach forests across the archipelago, as well as in river banks in urban areas.
Locally, in Tacloban City, an ordinance was passed in December last year that restrains residents within the 40-meters distance from shorelines from erecting their homes again. As the city government authorities have disclosed, no building permit will be issued to those who will seek such document. Notwithstanding this preventive edict, there are those who put up their houses of light materials within the prohibited area. As aforementioned, this is in apparent hopelessness for a permanent shelter either they or the government could produce for them outside the proscribed area of 40 meters from the shorelines.
Clarifying this issue in its Kasugbong ha Pagtindog paid weekend morning program over local radio station DYVL, Dept. of Social Welfare and Development Assistant Regional Director Virginia Idano declared that the transfer of residents whose houses nestled erstwhile within the easement zone of 40-meters are no being scheduled.She further disclosed that the resettlement to the bunk houses which are but temporary shelters are being prioritized to those in the 30 barangays identified within Tacloban City. The transfer, as she added, has started and being done in coordination with the Department of Public Works and Highways.
To hold back the residents from rebuilding their homes within these "no-build zones" is a primary task of the local government unit concerned, according to the DSWD official. The social welfare office's responsibility is in identifying the families entitled to resettle at the temporary shelters. Like in the controversy that hounds the cash-for-work, family access card and relief assistance distribution of the social welfare agency the perennial question as to who are in and who are out reverberates. The DSWD, nevertheless, assured that no politics and partiality should mar the list of qualified beneficiaries.