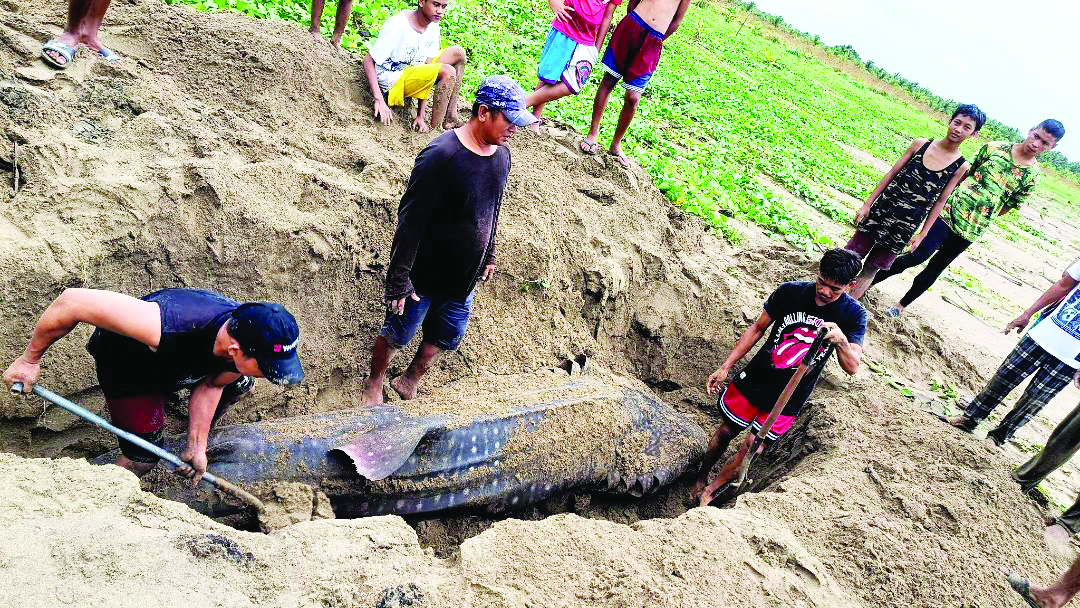 ORMOC CITY- Residents of a coastal barangay in Mondragon, Northern Samar were stunned to find a weakling whale shark that later died on Monday (Oct.3).
Wilson Tenebroso, who works at the municipal government, in an interview said that their office received information that shark was found adrift along the shore in Barangay Bagasbas at about 9 am.
Tenebroso said that when they arrived in the village, the shark was already dead.
He added that based on the accounts of the residents, the animal, locally known as 'butanding,' was seen eating planktons and shrimp which are abundant in the area.
However, the locals told him that the whale shark seems to be disoriented on how to get out of the area.
He explained the seawater of the shore of Bagaspas is shaped like a basin and most often a disoriented fish could never come out from the area.
Tenebroso also said that based on the report of the provincial office of the Bureau of Fisheries and Aquatic Resources, the whale shark measured 14 feet and weighed 1,000 kilograms.
And quoting the BFAR report, the big fish had red markings under its mouth going to the anal fin.
The fisheries officials theorized that the whale shark got this while trying to come out of the shore and since it was still juvenile, it got disoriented that resulted for the shark to be trapped.
Moreover, the fishery officials said that the continued slamming of the fish as it ran aground from a shallow portion of the seawater could have caused the red markings that later made the fish weak. The red markings must have hurt the whale shark so much that caused the giant fish to get weakened until it succumbed, the BFAR officers told Tenebroso.
The BFAR officers also opened the stomach of the whale shark to find if it ate something that could cause its death. But so far only small shrimps and plankton were found inside the stomach and no foreign matter was found.
The whale shark was buried at a 6-foot graveyard on the shore of the barangay.
Upon burying the LGU and BFAR officials poured gasoline inside the belly and the whole body of the whale shark for the community not to dig or consume it.
(ROBERT DEJON)