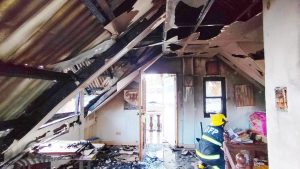 ORMOC CITY-An unattended rice cooker was blamed for a fire incident in Laoang, Northern Samar on Saturday (May 13) at about 11:30 am.
Initial investigation conducted by the local Bureau of Fire Protection disclosed that the fire started at the house of Oscar Irinco, after a neighbor, a Grade 7 student, forgot to turn off the rice cooker causing the wires to ignite.
The house, made of concrete and light materials, was immediately gutted by the fire, affecting four other houses in the process.
The fire was put under control at around 12:54 noon and was declared fire out at about 1:18 pm, according to town fire marshal SFO4 Eric Milla.
No one was reported injured from the fire that resulted in the destruction of properties valued at P2 million.
(ROBERT DEJON)