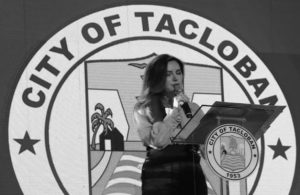 Maupay nga kulop ha iyo nga tanan!
November 8 is indelible on the hearts of Taclobanons. Five years after Typhoon Yolanda, individually, we are still coming to terms with our grief of losing our loved ones. Collectively, we are still trying to comprehend what Yolanda meant for our city.
Even after five years, most of us still feel the grief, sadness and sometimes regret losing a dear family member or a friend. To add, the loss of hard-earned properties even caused is pain and hardships for the past five years.
Typhoon Yolanda has caused personal struggles and challenges for each of us. We may have different Yolanda stories, but I am sure all our Yolanda stories are about family, courage, and survival. Personally, when I think about Yolanda, I remember my family, my children—and how we fought for our lives. And this is the typical Yolanda memory of Taclobanons. Yolanda is all about family. That is why the commemorative anniversary is a day of reflection for us. On this day, we are reminded of the people that Yolanda took away from us. We honor and memorialize the lives of our friends and family, but most importantly, we appreciate who remained and survived with us after the strongest typhoon.
Collectively, we reflect on what Typhoon Yolanda means to us as a city. For Taclobanons, Yolanda is our climate change wake-up call. It was a clear call of action for us to seriously take on disaster preparedness and climate adaptation. For five years, we tirelessly reflect and work on our disaster preparedness, response and recovery, and rehabilitation. Typhoon Yolanda literally changed our life and how we lived. The disaster-preparedness framework stuck with us, in almost everything that we do. After Yolanda, disaster-preparedness became a local and a national framework.
Another upside if the unprecedented Typhoon Yolanda was solidarity. The worst disasters bring out the biggest of hearts. Taclobanons have witnessed the outpour of support and the generosity of humanity. Today, we pay tribute to the generosity of volunteers, the private sector, international government and non-government organizations, and everyone who extended aid. Our hearts are overwhelmed with gratitude—maraming salamat po! Damo nga salamat!
And of course, sa mahal naming President Rodrigo Roa Duterte. President Duterte, Taclobanons will never get tired of telling the story of a mayor from Davao who immediately came to our aid, only hours after the typhoon. Your commitment to the Yolanda corridor continued until your present leadership. Thank you for pushing this administration to fulfill the promise of rehabilitation.
Speaking of rehabilitation, let me give you the most significant updates on this year's efforts to rebuild:
Housing
 On socialized housing, out of 13,390 units of houses needed, 10,812 were already awarded by NHA to their new owners
Basic facilities/services for the North
 Under the new leadership of the Leyte Metropolitan Water District, provision of the water for Tacloban North will finally be realized. The project to design and build a supply system for Yolanda resettlement sites is undergoing bidding. Hopefully, before the year ends, the project will be awarded. We cannot overemphasize the importance of water to Tacloban North. Also, the pipeline replacement and rehabilitation project for the rest of the city is also on its way. For these, we are very grateful to the Office or the President for fulfilling the promise of giving the basic utilities that we need for our new township in the north.
 The new EVRMC hospital in Cabalawan is now more accessible not only to Taclobanons but also to our brothers from Samar.
 The city hall satellite office at Sto. Niño is now open to serve clients.
 Temporary learning spaces have been put up in different resettlement sites, including day care centers and child minding centers.
 Widening of roads to the north is ongoing through DPWH.
Transportation-
 As an effect of the move of thousands of families to the north, transportation to and from resettlement sites was a challenge. Fortunately Vallacar Transit through the help of Sec. Mike Dino, donated six Ceres Liner buses last December. These buses provided a free ride in and out of the downtown area for students and workers coming from Tacloban North.
 To permanently solve the problem of transportation, early January this year, 45 solar jeepneys have started plying the downtown to Tacloban north route, providing transportation service to thousands of resettled families in the north. Significantly, the rollout of these e-jeepneys was also LTFRB's launching of this administration's PUV modernization program.
Livelihood
 For livelihood and employment opportunities, the Tacloban City Community Livelihood Enhancement Training Center will soon open through a partnership with Salvation Army and TESDA.
Further, the construction of the Triple A slaughterhouse at Brgy. Salvacion is almost complete and ready for business.
Environment and Climate Adaptation
On climate adaptation, the most crucial starting point is the city's master plan. Last month, our Comprehensive Land Use Plan 2017-2025 was finally approved by the Housing and Land Regulatory Board. This is a huge step in Tacloban City's goal to become a model city for resilience, as it incorporated climate change adaptation and disaster risk reduction into every aspect of the plan. One of its highlights is the movement of informal settler families, as well as new developments, to higher safer ground.
For the past years, our CENRO has been working on ecological restoration to rehabilitate our mangroves and beach forests that are to be the first line of defense from typhoons.
And just recently, we started the partial closure of our open dumpsite and we are ready to use our sanitary landfill that will complement our efforts to reduce waste in the city through Material Recovery Facilities (MRF's). Hopefully next year, waste segregation will be fully implemented in the whole city.
After five years of rehabilitation and rebuilding, a lot of things have been done but there is still a lot of work to do. Most outsiders would say that Tacloban has already recovered after Yolanda. But we, locals, know that Tacloban can still be a better city for the next six or ten years after Yolanda. We have been on a steady path to recovery and reconstruction through the help of this present administration and the constant help of the kindhearted people all around the world.
My term is coming to a close; it has been my privilege and honor to serve the resilient people of Tacloban. As this is my last Yolanda commemoration as your city mayor, this is my personal appeal to all—after five years, I hope Typhoon Yolanda changed us for the good, personally and collectively as a city. Typhoon Yolanda may have taken away lives and properties, but I pray that it made us more grateful, more patient, more resilient and kinder. I hope that for the next years to come, the stories that we tell our children and grandchildren, are stories of strength over grief, hope over regret, solidarity over divisiveness. Let us be the most grateful and happiest people in the world.
Thank you and good afternoon!