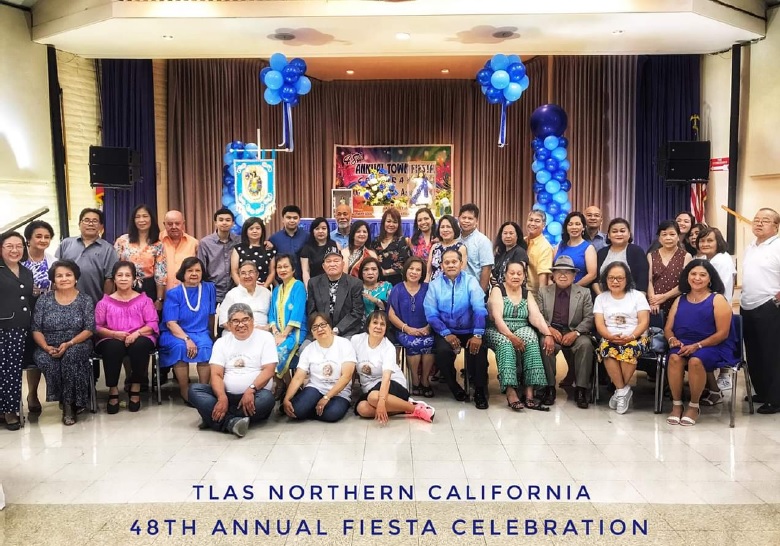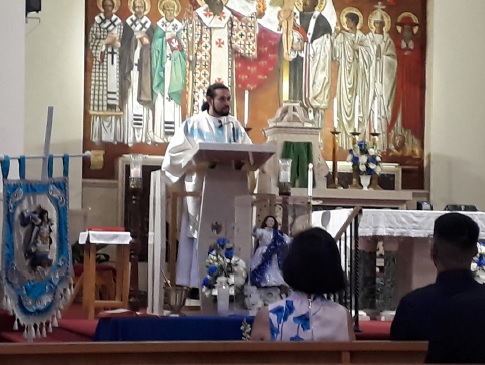 BY: EILEEN NAZARENO-BALLESTEROS
VALLEJO, California-In spite of hectic day-to-day grind, devotees of Our Lady of Assumption and their family members from across Northern California and have roots from Tanauan, Leyte recently gathered to celebrate the feast of their Philippine hometown's patron saint.
Coming together in their common ground called Tanauan Leyte Assumption Society (TLAS), the members make it a point to annually celebrate the feast of Our Lady of Assumption in August, commemorated by the Catholic Church largely worldwide on August 15.
This year, albeit a week late, the officers and members of TLAS and its spin-off humanitarian outreach group Tanauan Leyte Assumption Foundation (TLAF) carried out the tradition at the St. Basil Catholic Church, this city.
Rev. Fr. Jeremy Santos, SBCC parochial vicar under the Diocese of Sacramento, presided the Mass.
In his homily, Fr. Santos gave emphasis on the dogma of Mary, Mother of Jesus, assumed by God to heaven body and soul and on her being one with Christ Jesus and God even while in her life on Earth.
He underscored the value of life, as can be gleaned on Mary's humanity.
Mary's closeness to God
"While she lives on this Earth, Mary shares in the closeness of God. She is close to each one of us, she can hear our prayer. She is given to us as our Mother whom we can call every time we are in need," he said.
He spoke as well on the importance of commemorating Our Lady's Assumption to Heaven, which dogma in the Catholic Church teaching states that the Virgin Mary "having completed the course of her earthly life, was assumed body and soul into heavenly glory".
Dogma defined
The dogma was defined by Pope Pius XII on November 1, 1950, in the apostolic constitution Munificentissimus Deus, exercising his papal infallibility.
An article on Catholic News Agency, read, "According to St. John of Damascus, the Roman emperor Marcian requested the body of Mary, Mother of God at the Council of Chalcedon, in 451.
CNA added, "St. Juvenal, who was Bishop of Jerusalem told the emperor "that Mary died in the presence of all the Apostles, but that her tomb, when opened upon the request of St. Thomas, was found empty; wherefrom the Apostles concluded that the body was taken up to heaven,' the saint recorded."
Further CNA informed, "By the 8th century, around the time of Pope Adrian, the Church began to change its terminology, renaming the feast day of the Memorial of Mary to the Assumption of Mary," quoting theologian and EWTN senior contributor Matthew Bunson in an account to CNA.
Value of life
Fr. Santos, in his homily stressed, "In the midst of suffering in the 1950's, Pope Pius XVI wanted to remind all humankind the value of human life in fulfilling the will of the Heavenly Father."
"Materialism is destroying the value of body and soul. Our Lady's Assumption into Heaven brings importance to man's body."
Tradition and devotion
As in each year of feast day celebration, a key sponsor headed the celebration. This year it Patricio Lauzon and Maddy Salvaña.
The celebration commenced, as done each year, with a Holy Mass followed by a banquet and partying.
Faith mixed with traditional social bonding
Elizabeth Buban-Ortiz, a native of Tanauan in Philippines' Leyte province but has long been a US citizen, recalled how she got involved into the annual devotion and traditional get-together.
She remembered that since she arrived in US in January 1976, her mother Josefa would bring her to gathering almost every Saturday where there were partying and prayers.
Among those which she could fondly recall was the Santa Cruzan (May flower devotion) where among the participants was the TLAS.
When August came, they had the celebration of the Feast of Our Lady of Assumption, the patron saint of Tanauan, her mother's hometown in the Philippines.
She said that the nine months prior to the August 15 Feast of Our Lady of Assumption there were monthly Novena prayers in her honor.
Having to drive for her mother Josefa, now deceased, she became actively involved and developed the devotion to Our Lady of Assumption.
Monthly Novena prior to feast day
In the local tradition, which they follow here in Northern California, an image of Our Lady of Assumption goes to the house of the 'hermana' (main sponsor of the annual fiesta) where the monthly prayer devotion is said.
Elizabeth recalled that when her family, along with few relatives, were the main sponsors, they said the novena prayer in Waray, the dialect spoken by natives of Tanauan.
Reading in the dialect was even harder than in English, according to her.
"Every time the image of Our Lady of Assumption was in the house, I feel the love, joy and happiness and feel so specially blessed," she remarked.
Petitions granted
"Every time I asked for help my petition was always granted. Every time there were obstacles in my life, I asked the Lady in Blue and her eyes will look at me as if she is talking back to me," she stated.
She added that the traditional gesture of getting blessings from her by her sons before going to work and upon arrival back home was all from her devotion to the Blessed Virgin Mary and praying hard to her.
Faith and outreach
The TLAS and TLAF members who are devotees of Our Lady of Assumption do not confine their fervor in church-related events.
The officers and members and families get involved as well in humanitarian outreach activities like donating goods to the needy in Tanauan and sending indigent but deserving students to school.