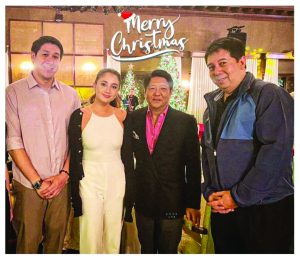 In Northern Samar, workers receive gratuity pay of P5,000
TACLOBAN CITY – Few days before New Year fireworks vendors and "torotot" or party horns sellers are now displaying their products in the city streets here.
As of this time, sellers said that their products are now selling briskly unlike in previous years.
However, they are expecting that their sales will pick up beginning today (Dec.31) as Taclobanons set to welcome the New Year this midnight.
The Philippine National Police in the region issued an advisory to residents to buy firecrackers and fireworks only to authorized dealers and retailers.
The region had three authorized dealers all are located in Tacloban and 105 retailers.
Torotot sellers had mushroomed in the city's downtown area in the hope that the public will heed the advisory from the police to only use safe firecrackers and other 'noise makers' during the New Year's eve celebration.
Torotot costs P35 each or three for P100.
But be mindful of the fact that the coronavirus disease (COVID-19) continues to be a threat buyers are prohibited to try the torotot before they buy the item.
Torotot seller Sittie Ainnah Disumangcop said that it is a precautionary measure against possible spread of COVID-19.
"Ginagamit namin ito para ma prevent sa pag spread ng virus," she said.
Moreover, the PNP in the region also deployed over 2,500 policemen assigned in places of convergence to ensure peace and order and security during holiday celebration.
Meantime, the more than 2,400 job order and contractual employees of the provincial government of Northern Samar have extra money to spend as they welcome the New Year.
This after the provincial board, upon the request of Governor Edwin Ongchuan, appropriated P12 million to give to the workers as their gratuity pay during their special session on Tuesday (Dec. 27).
The workers are to receive P5,000 each. Entitled to receive are those who have been in service for four months now.
The workers started to receive their gratuity pay beginning Wednesday (Dec. 28).
The granting of the gratuity pay is based on Administrative Order Number 3 issued by Pres. Ferdinand 'Bongbong' Marcos Jr. on Dec.23.(ROEL T.AMAZONA/JOEY A. GABIETA)