CAMP JORGES DOWNES, ORMOC CITY– On December 26, 2022, 802nd Infantry (Peerless) Brigade, 8th Infantry (Stormtroopers) Division, Philippine Army celebrated Christmas with 34 former rebels or Friends Rescued (FRs) with their loved ones and families of still active Communist NPA Terrorists (CNTs) at Camp Downes, Ormoc City, Leyte.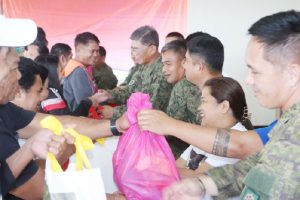 The activity was graced by Colonel Noel A Vestuir, brigade commander with deputy brigade commander, Colonel Rico O Amaro; provincial director of TESDA-Leyte, Director Rolando Bade; and battalion commanders of 14th and 93rd Infantry Battalions.
Significant parts of the program were parlor games, fellowship lunch, gift-giving, stakeholders' message of commitment, FR's message of thanks, and Christmas message of Commander, 802nd Infantry Brigade.
The FRs are thankful and happy celebrating Christmas while their former colleagues especially their families and children are still suffering hardship in the hands of the terrorist CPP-NPA-NDF. The FRs denounced the 54-years of CPP futile ideology and terrorism that agonizes the lives of every Filipino.
Noticeable among FRs' messages of thanks, encouragement and calling include that of Elmer Anota, former CPP party member and MAKABAYAN organizer who encouraged fellow urban area operators to stop deceiving and recruiting those from the vulnerable and indigent sectors.
Rufa Correa was thankful in her testimony for having availed the Alternative Leaning System (ALS) with her sister fellow FR, Realyn Correa Lombog. The Correa sisters also expressed their gratitude for the rescue from CTG detention of their ailing mother, FR Pacita Correa and her subsequent treatment of her blurring eyesight that could have led to her permanent blindness.
Pacita also gave thanked the military for the good treatment afforded to her rescued daughters and treatment of her damaged eyes. She further appealed for the surrender of her CNTs husband and sons to complete their family and live normal lives.
Jevelyn Aloba also called for surrender of her CNT husband Resty Opo assist her in raising their son and daughter together.
Couple Zaldy and Clarita Centino discouraged the public from enticement to CPP-NPA-NDF deceptions.
Jessica Darantinao also called for the surrender of her sister CNT Janeth Darantinao as her children suffer hardship with the recent death of their father that left them under the care of their ageing grandmother.
Gina De Veyra, a former organizer-recruiter for the GABRIELA Party List conveyed awareness on terrorists allied and/or supportive progressive organizations.
Helen Fuentes expressed happiness for the rescue of her son, Jannel Fuentes and called for the surrender of her daughter Realyn. In his message, Jannel Fuentes was also thankful for his safe rescue and called for the surrender of his sister, Realyn. Librado Tarong apologized to fellow FRs for deceiving and recruiting them that tormented their life while in CPP-NPA terrorist organization.
TESDA Provincial Director Rolando Bade committed to attend to the needs of all FRs by conducting skills training including the members of the Brigade-organized thirteen (13) Municipal/City Integrated Peace and Development Workers Associations (IPDWAs) in the Province of Leyte.
The activity was aimed to make our FRs happy and for them to feel that they are being cared for by the government especially that they are actively supporting the every Filipino's desire of pursuing a just and lasting peace". Colonel Vestuir said.
"We will continue this noble advocacy to save more victims of CPP-NPA-NDF and make them realize that despite of all wrong that has transpired when they joined the CTGs, – MARAMI PA RING NAGMAMAHAL SA KANILA!" Colonel Vestuir ended. (PR)