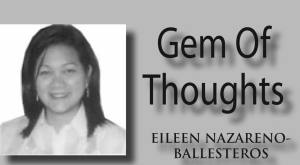 Holy Week is time for cool change. There are instances wherein a storm has yet to rage on before this astounding change happens. It is not the geophysical storm as strong as the destructive supertyphoon Haiyan, but one that swirls within one's inner self prompting him to let go of what is kept hidden for years and not be bothered by the "cold" around him. The kind of hurricane that is truly life changing is the sincere return to the Holy One.
From the time Shirlee Herrera-Kaquilala, a beauty and wellness entrepreneur, felt her spiritual calling, she would not miss a time sharing about her transformation. She would recall having chided his husband, Marlaw, a successful businessman based in Metro Manila, for giving more time and part of his material wealth to his vocation, before she heeded to the vocation to a more solemn spiritual devotion. She then could not understand the essence of surrendering oneself to whom she now accepts as her true master – God, Our Father.
Not questioning any of the responsibilities that go with such calling, Marlaw over time became the president of God Our Father Foundation, while Shirlee an obliging follower sparing a regular part of her business income to the foundation's missionary works. She is more than inspired every time they would visit places, including the remote sitios in Tacloban City's northern barangay, to join in prayer and Bible service and giving out prayer books and Bibles to the members and the natives there. She admitted having to spend quite a sum, but assured that God is constantly returning what she shells out for God.
What is most astonishing in her is the transformation in the way she looks at life, paying special focus on what is most important – a fuller life with God and a place in Heaven. This Holy Week, she encourages friends to do the CARE – Confession, Adoration, Rosary and Eucharist, which she learned in the advices of priests, including his first cousin who is now a parish priest in Allen, Northern Samar. She believes that CARE should be fulfilled in CARE before the Holy Week.
Lent is a time for healing, Rev. Fr. Rex Ramirez, rector of the Sacred Heart Seminary in Palo, Leyte, said in a Lenten recollection he recently conducted. Besides being a chance for real spiritual conversion and transformation, Lent is the time for reshaping one's soul and improving one's health, properly utilizing each sense organ in ways pleasing to God. By meditation and sincere prayer as medicines for the soul, the body also gets a cleansing by God's grace.
The Holy Scripture speaks of a story in Moses' time about healing and conversion, which was one of the Holy Mass readings this week. While Moses and the people were on a journey, the people whom Moses led from slavery in Egypt complaint against God and him, yelling, "Why have you brought us out of Egypt to die in the wilderness? There is neither bread nor water here and we are disgusted with the tasteless manna!"
God sent fiery serpents. They bit the people and many died. The people then came to Moses and said, "We have sinned speaking against God and against you. Plead with God to take the serpents away." So did Moses. God instructed Moses to mount a serpent on a pole and whoever has been bitten and looks at it will live.
In a similar passion, when one is almost dying because of sin but turns away from it and focuses his gaze on Christ at the wooden cross will live. This is how the change came into Shirlee. She is now a believer of the agonizing Christ on the cross. She felt she has change a lot when began to fix her attention upon the Lord who suffered for humanity in order to inherit a place in Heaven and have a more meaningful existence while on earth.