As EV marks 10th of Yolanda's onslaught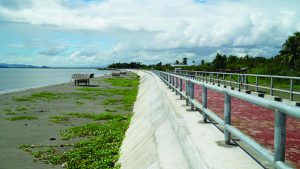 TACLOBAN CITY – A top official of the Department of the Public Works and Highways (DPWH) in the region expressed his optimism that the tide embankment project, supposed to protect coastal communities from storm surge, will be completed during the current administration of Pres. Marcos, Jr.
The tide embankment project was first started during the administration of Pres. Aquino which was continued during the time of Pres. Duterte who even vowed to complete the project before he stepped down from office in 2022.
But Edgar Tabacon, the DPWH regional director, said that the project, spanning the towns of Palo and Tanauan and this city, is only 60 percent completed.
"We hope that we can finish the project during the administration of Pres. Marcos and we are closely working with House Speaker (Martin) Romualdez on this," he said during a media briefing.
Tabacon said that while they wanted to finish the project, there were factors why the project was delayed.
For one, he said, there were questions of road right-of- way from the affected lot owners, resistance from families affected who continued to live in coastal areas now deemed as danger zones.
"We cannot just move them out away from their houses. These are people who are not ready to be relocated and we are living in a democracy. We just hope that they can be persuaded and see the advantage of the tide embankment project," Tabacon said.
He also said that the project was also expanded to areas that were not originally included like that of Tolosa, which was also battered hard during the onslaught of Yolanda on Nov. 13, 2023.
This year marks the 10th year anniversary of Yolanda's onslaught that was marked with the deadly storm surge, reason why the national government considered the time embankment as a solution.
Originally, the project covered 27.3 kms with an initial budget allocation of P7.9 billion. However, with the inclusion of several barangays in Tolosa and modifications, the project now covers 38 kms with a budget cost of P12 billion.
The project completion date depends on the available funds downloaded by the central government, Tabacon said.
JOEY A. GABIETA