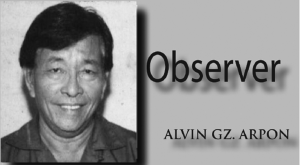 Senator Jinggoy Estrada firmly states that he will not resign as demanded in social media in the internet, relative to his alleged plunder of the P10B PDAF scam. His argument is that his resignation would "tantamount to disregarding the mandate given him by 18 million Filipino voters who made him senator of the land". Senator Bong also expressed his conviction not to resign for some other reasons.
-oOo-
Jinggoy should know or be informed that his mandate is to serve his "18 million voters" with the highest level of competence, and sincerity; and above all honesty in public services. That mandate lost its spirit and power when he commits unlawful acts.
Yes, he, (Jinggoy) Bong and Johnny(Enrile) are deemed innocent of this "crime of the century" until proven otherwise. If resignation is harsh, Jinggoy et al should at least have filed an indefinite leave of absence until the issue is resolved, so that they would not be able to employ influence of any kind that their positions possess in the process of hearing their cases.
Jinggoy has not probably read accounts of elected public officials in more advanced democratic nations when even if they are merely accused as suspects in a crime, they either resign or a least take a leave of absence until their cases are resolved by their courts all in the name of delicadeza..
-oOo-
Both Jinggoy and Bong are all over town pressuring Justice Secretary Leila de Lima to reveal senators, congressmen and other public officials mentioned by the PDAF scam architect Janet Lim-Napoles when the Justice Secretary had a one-on-one interaction with the accused top-gun woman in the scam who was confined in a hospital.
Justice de Lima does not want to be pressured unless invited in the Blue Ribbon Committee hearing which will pressure her to reveal. She has no choice but to, she says. Meanwhile she begs to all and sundry that she be given enough time as she promised to reveal their names in time. Malacañang Spokesman has assured the nation they will reveal all, even if it will involve the President's party mates. So let's be patient.
-oOo-
And here we are witnessing and hearing Sandra Cam before the DOJ office pressuring Justice Secretary to reveal the names of other government officials involved in the P10B PDAF scam. She brags she too has the list. So, what's stopping her to reveal the names? She is a "certified whistle blower". C'mon Sandra, do it! Otherwise Sandra Cam, you are just grandstanding for some personal agenda or purpose probably. Your guesses are as good as mine.