For COVID-19 contact tracing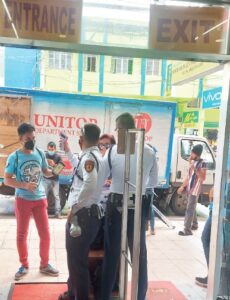 By:Joey A. Gabieta
TACLOBAN CITY- About 150,000 individuals from this city and those residing in other parts of the region have availed of a system introduced by the city government for easy contact tracing relative to the pandemic caused by the coronavirus disease 2019(COVID-19).
This was disclosed by Randy Calahi, head of the Management Information System (MIS), who said that they are overwhelmed with the response of the public.
It was the office of Calahi that developed the system dubbed as surveillance, contact tracing, analysis and networking (SCAN) which took effect on Thursday (July 16).
According to Calahi, 80,000 people have registered the system online while about 70,000 cards were distributed to all 138 barangays in the city wherein one household is entitled to one SCAN card.
The program is part of the campaign of the city government under Mayor Alfred Romualdez to address the COVID-19 pandemic by having an easy and fast contact tracing for both positive individuals and their close contacts, the MIS chief.
All establishments, particularly frequented by big number of people, are required to have a scanner wherein the SCAN cards issued by the city government would be scanned before the holders would be allowed entry.
Calahi said that they have already distributed SCAN cards to the villages wherein one household is entitled to a single card.
"And for the past two weeks, about 80,000 individuals have downloaded the application on their mobile phones. And many of them are not even residents of Tacloban City," he said.
Holders of SCAN cards and those who downloaded the application have their own QR code containing their names and mobile phone numbers.
The data are 'stored' at MIS command center which works 24/7 for the entire week.
So far, 237 establishments in the city are now using a scanner before they allow entry to the customers.
Calahi said that the program was designed for easy contact tracing as the city continue to grapple with the COVID-19 threat.
Tacloban City, at present has only one active case. Previously, the city has 55 COVID-19 cases which are have now recovered from the dreaded virus.
Calahi said that one unique feature of the application is that it can 'detect' if a person is COVID-19 positive which will give an 'alarm' sound.
He said that one can receive a text message that someone nearby is positive of COVID-19.
It was learned from the MIS head that they have been doing the application as early as January upon the instruction of City Mayor Alfred Romualdez.
And they were able to perfect the system as early as March.
"This is a zero-cost program as this is just an in-house designed system,"Calahi said.