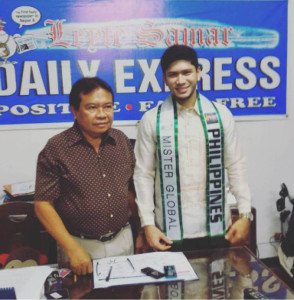 TACLOBAN CITY- All Rick Kristoffer Palencia wants is to board a ship to help his family. But instead of boarding ships, being a graduate of Bachelor of Science in Marine Transportation, the mestizo-looking 23-year old Palencia has television and fashion shows as stage. At this point, the Tacloban native has to set aside his childhood dream of becoming a seaman to fulfill his obligation as this year's Mister Global Philippines. The male beauty pageant was held last September 13 with Palencia beating 29 other candidates, some of them professional ramp models. He is the first from the region to have won the title whose winners include Neil Perez, a policeman by profession.
The title carries with it his representation of the country to the Mister Global International slated next year in Thailand. And obviously, Palencia is relishing his new-found role as a "beauty titlist." "I just want to help my family, reason why I took the course and be a seaman. But this opportunity is now with me, so I have to make the best out of it," Palencia said in an interview during his visit to Leyte Samar Daily Express office on October 1.
The 5'10 Mister Global Philippines winner is the grandson of Lourdes "Ate" Lulu Palencia, an institution in the local media industry. This early, opportunities are coming his way like doing some fashion shows and television appearances that could be his ticket to a possible career in showbiz. Incidentally, his aunt, Lourlyn Palencia, was at one time a movie actress.
As part of his preparations for the forthcoming international pageant, Palencia said that he is doing some strenuous workouts to make him more fit. He also said that his winning somehow compensated whatever emotional strain he suffered when super typhoon "Yolanda" struck Tacloban close to two years now. He was in Naval when the world's strongest typhoon hit Tacloban. He walked and hiked for more than a 100 kilometers just to reach Tacloban and see the conditions of his loved ones.
"But I'd rather not recall the bad memories brought by Yolanda. Instead tell the entire world that Tacloban has recovered from it. People are returning to their normal lives and our economy is slowly recovering," Palencia said. (JOEY A.GABIETA/ROEL T.AMAZONA)