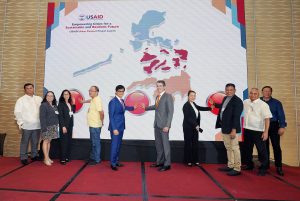 TACLOBAN CITY-The United States government, through the U.S. Agency for International Development (USAID), has partnered with Tacloban City and eight other cities "to help fast-track the economic development" in their respective areas under the "Urban Connect Project".
"As your partner in prosperity, the U.S. government seeks to strengthen the capacity of our partner cities and surrounding areas to become not only centers of economic growth, but also beacons of inclusivity and innovation," said USAID Philippines Mission Director Ryan Washburn.
"The Urban Connect Project fosters sustainability and resilience and ensures that no one is left behind as these cities progress," Washburn added during the project launch on October 27, 2023 in Quezon City.
Department of Interior and Local Government (DILG) Secretary Benhur Abalos Jr., along with local government representatives from USAID's Cities Development Initiative partner cities, joined the said event.
"Aligned with our vision in building competitive, resilient, socially-protective, and safe LGUs, we believe that USAID's Urban Connect Project will complement and can help in further supplementing the efforts not only of DILG but also of other government agencies in enhancing public service delivery and advancing local economic development," Abalos said.
According to the U.S. Embassy in the Philippines, the USAID's five-year, P625-million ($11 million) Urban Connect Project "will fund capacity-building initiatives and provide technical assistance that will help build thriving economic hubs in nine partner cities."
Aside from Tacloban, the other cities are Batangas, Legazpi, Puerto Princesa, Iloilo, Tacloban, Tagbilaran, Cagayan de Oro, General Santos, and Zamboanga.
"Under this program, USAID will work closely with partner cities' local governments to facilitate enterprise growth, streamline the business permit system, reinforce public financial management, promote e-governance transition, and enhance cooperation between neighboring cities," the embassy said.
The Urban Connect Project launch, which coincides with the celebration of World Cities Day on October 31 and the Philippines' Local Government Month, gathered partners and representatives from the private sector, supporting agencies, and the Philippines' national and local government officials, led by Abalos and Anti-Red Tape Authority Director General Ernesto Perez.
(RONALD O.REYES)