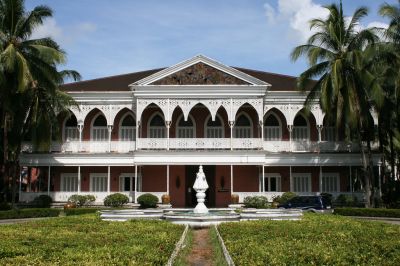 TACLOBAN CITY – The Tourism Infrastructure and Enterprise Zone Authority (TIEZA) recently approved a P10 million funding for the rehabilitation of sequestered Sto. Niño Shrine and Heritage Museum. Department of Tourism (DOT) Regional Karina Rosa S. Tiopes confirmed that the repair project will kick off within this year for the 2,000 square meter museum built by former first lady Imelda Romualdez Marcos.
"The budget request to rehabilitate the shrine has been made even before the supertyphoon, but it was not immediately approved by the TIEZA since this is a sequestered property. The damages caused by Yolanda facilitated the immediate approval of the budget," Tiopes said. The tourism official said that TIEZA, an attached agency of the DOT, and the Presidential Commission on Good Government recently signed a memorandum of agreement on the implementation of repair works with funding approved last April. The museum's roofing system has incurred damages. Some portions of its ground floor were also destroyed by storm surges. In the second floor, some porcelain jars were broken during the supertyphoon.
Before the typhoon struck, the property generates an average of P100,000 monthly from entrance fees of tourists. Its income dropped to P20,000 to P40,000 monthly after it resumed operation on December 2013. "The museum still generated income after Yolanda due to influx of workers from humanitarian relief organizations. But we lost local tourist since they are more focused on rebuilding their shattered lives," said Noemi Duarte, a PCGG staff that volunteers in the shrine. For a 30-minute tour, the PCGG charges P200 for the first three persons and P60 for any excess of time. The shrine's income is solely used for its maintenance activities, said PCGG regional representative Renoir Dauag. "The structure needs major rehabilitation since our maintenance fund is only limited for minor activities like applying spray to eliminate termites and replacement of gutters," Dauag said.
Fondly described by Marcos as the family's ancestral home, the termite-infested shrine consists of 21-rooms with various priceless religious icons. Marcos, who is now a solon representing Ilocos Norte, built the religious landmark in 1979 in this city to house priceless art pieces and antique collections. Since 1986 the shrine has been under PCGG control after sequestered properties. A chapel located at the main entrance highlights the image of Sto. Niño. The guest rooms showcase native bamboo materials, rattan, shells, basket weaves blended with European and Chinese furnishings into various motifs. At the second floor are collections of intricately handcrafted ivories, antique furniture, paintings of famous artists, precious figurines, Chinese porcelain jars, grand pianos, chandeliers, Australian-style mirrors, wood carvings, and huge paintings of the Romualdez clan and Marcos family. (SARWELL Q. MENIANO)