Former Social Security System (SSS) President and CEO Michael G. Regino (right) turned over the leadership of the SSS to newly appointed Acting President and CEO Rolando L. Macasaet (left) in a ceremony held today, January 10, 2023, at the SSS Main Office in Quezon City.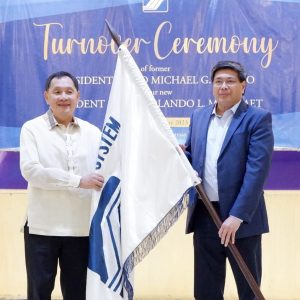 In his message, Regino expressed his support to Acting President and CEO Macasaet and the SSS, encouraging them to set a higher standard of excellence for the benefit of Filipino workers.
In response, Macasaet acknowledged Regino's efforts that steered the SSS to new heights. He vowed to continuously build on the institution's path of growth, look for new ways to holistically improve the institution, including its workforce, and work doubly hard to provide current and future SSS members and their beneficiaries with meaningful social security protection.
Macasaet is the 20th President and CEO of the SSS. He will now be responsible for the general conduct of the operations and management functions of the SSS, carrying out of its programs, and implementation of the policies of the Social Security Commission (SSC), the highest governing board and policy-making body of the SSS. Also, he will take on the role of Vice-Chairperson of the SSC. (PR)