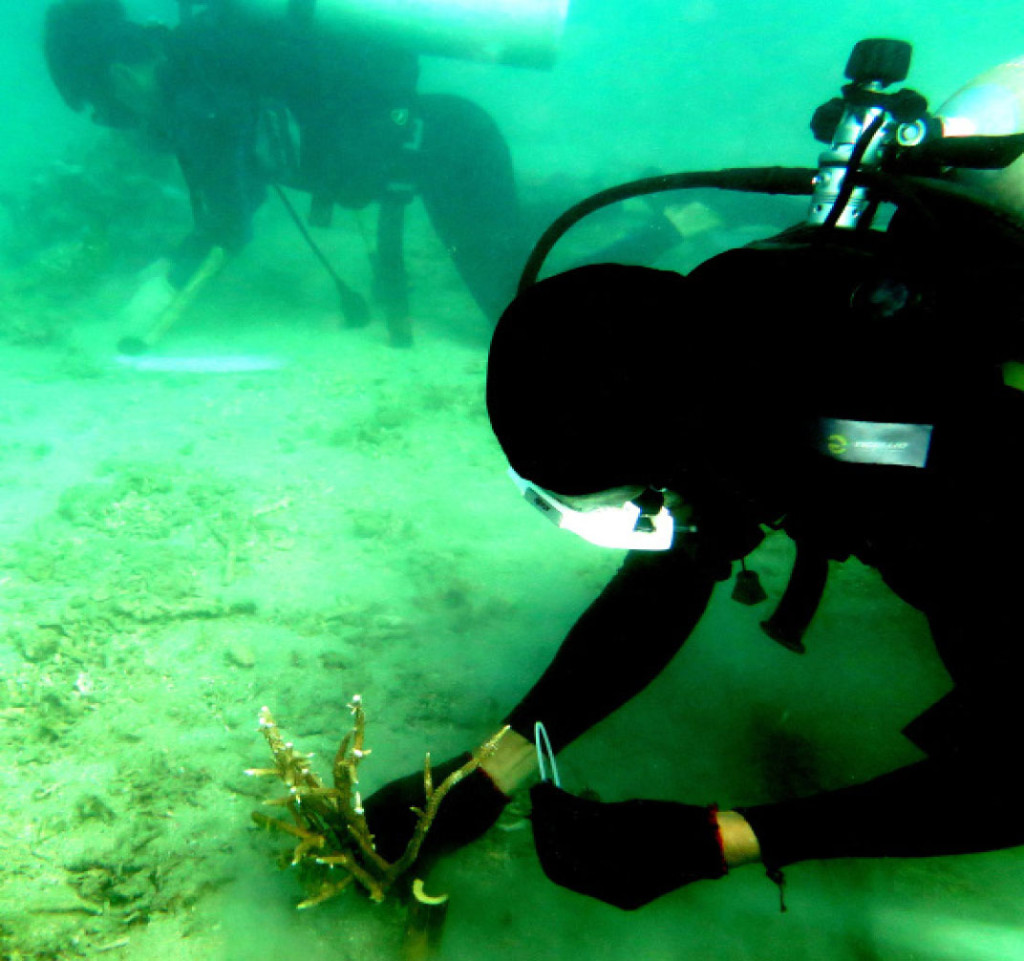 TACLOBAN CITY- A large-scale transplantation site for corals is being established off the waters in Southern Leyte to protect its species against climate change.
"The project will serve as a climate change adaptability measure by saving corals from imminent destruction due to high levels of siltation, pollution, and other factors," said Rio Cahambing, provincial consultant on marine tourism and resource management, in a press statement. Cahambing said the coral plantation is 5,000 square meters (0.5 has) and consists of 1,250 coral cuttings planted at two-meter intervals, at depths between 15 to 20 meters.
The project uses the staghorn coral specie (Acropora cervicornis) which is a branching amb coral with cylindrical branches ranging from a few centimetres to over two metres in length and height, Cahambing said. This specie, according to Cahambing, is considered the fastest growing specie among the hard coral family.
"These same coral species will be transferred to a more hospitable area where they are more likely to thrive, hence, their physical relocation or transplantation," Cahambing said.
Located at the fish sanctuary in Barangay San Antonio in Tomas Oppus town, Southern Leyte, the coral transplantation site is said to be the first in Eastern Visayas and the entire Visayas regions, according to Lloyd Tria of Life Time Dive Center, whose group has helped in putting up the project. Known for pioneering coral transplantation in the Philippines, Tria and his team have established same coral transplantation projects in the municipalities of Tukuran, Labangan, Pagadian City, Dumalinao, Tabina, all of Zamboanga Del Sur, and Buug of Zamboanga Sibugay in Mindanao.
"The project will be regularly monitored by the provincial government, as these corals will soon become habitats to fish and other organisms, and therefore sustain the marine life of the area. The same project will be replicated in other municipalities of the province in the future,'' said Cahambing. Aside from the coral transplantation, Cahambing also disclosed that marine species in the province have dramatically increased due to their continued artificial reef projects with partner French non-governmental organization Scaph Pro (Philippines) Oceanographic Research. In 2012, a massive attack of coral-eating starfish occurred in the province which destroyed its marine ecosystem and livelihood. (RONALD O.REYES)