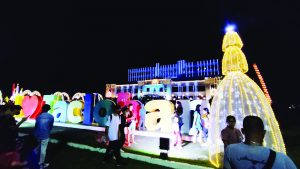 Yap seeks reef to be a protected seascape
MAASIN CITY– Southern Leyte Christopherson Yap is confident that the bill he submitted to declare Panaon Island as a protected area will be passed by Congress.
Yap, who represents the second district of the province, has filed House Bill 04095 seeking for the protection of the Panaon Island as a seascape.
A similar measure was also filed by Rep. Luz Mercado of the first congressional district as contained under House Bill 3743.
"This needs an inter-agency support and I am thankful that there is an NGO (non-government organization) that is helping us in pushing this bill," Rep Yap said.
He was referring to Oceana, an international advocacy organization dedicated to protecting the world's oceans by working closely with national and local government agencies, civil society groups, and fisherfolks.
The organization is currently implementing programs in Southern Leyte for the protection and restoration of its biodiversity of marine resources particularly along Sogod Bay area and Panaon Island.
"This bill is very important not only for us but also for the future generation. Panaon Island is not just a plain choice to protect but there is a data to support it," Yap added.
"This bill aims not only to protect the seascape but also the people and communities who rely their source of food and livelihood at Panaon," he stressed.
Research conducted by Oceana shows that Panaon Island forms part of the "Coral Triangle," an area of high biodiversity that sprawls across multiple countries in the western Pacific Ocean.
More than 250 species of hard coral and plenty of soft corals have been documented in this area.
Reefs of Panaon Island are said to withstand the effects of climate change but are not exempted to human-induced destructive activities like illegal fishing and pollution.
Panaon is about 30 kilometers long connected by the Wawa Bridge to the main Leyte Island.
Panaon Island is composed of the municipalities of Liloan, San Francisco, Pintuyan and San Ricardo. The basic forms of living are harvesting coconut, rice, fish, with tourism activities as their alternative livelihood.
Major tourism activities in the area are scuba diving and whale shark interaction.
ROEL T. AMAZONA