PALO, Leyte– Oriental Hotel Leyte, located in this historic town, joined its other branches in the country for the simultaneous switch-on of their Filipino-themed Christmas Tree on Saturday(Dec.3).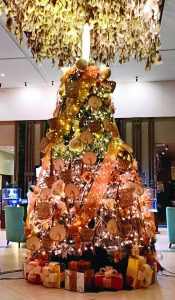 The switch-on ceremony was joined by Palo Mayor Remedios 'Matin' Petilla; board member Wilson Uy; town councilors Chiqui Uy and Felipe Ygrubay; and Oriental Manager Anito Lactinse.
Mayor Petilla, in her message, said that she is happy that the biggest hotel in the region has finally resumed operation after they were affected by the pandemic.
"It added to the tourism thrust of Palo and Leyte province," the mayor said.
"I hope that Oriental Leyte will continue to serve the people of Leyte, and to continue to be a place of destination for the people of the region," Petilla added.
As part of the Christmas promo of the hotel, they are offering the month-long 'Home for the Holidays' promo by booking a room that is good for two persons for P3,888 per night at their premier garden view room.
Overnight accommodation includes complimentary breakfast for two, free use of swimming pool and gym, 10% discount on ala carte and thematic buffet dinner like the Asian buffet, seafood buffet, and Waray-waray food at Samsara Restaurant.
Guests can also avail a 10% discount at the spa.
(ROEL T. AMAZONA)