3,000 people attended the funeral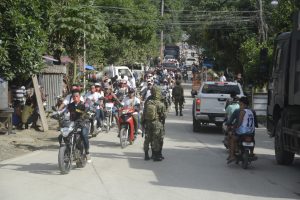 SAN ISIDRO, Leyte– About 3,000 people attended the burial of the sister of Mayor Remedio Veloso on Dec.30 as they also sought that justice be served to her family.
Juanita Veloso, 77, died after her car where she was on board was fired upon by still unidentified armed men while cruising in Kananga, Leyte on her way to this town last Dec. 21.
Her companions at that time, Leleena, the wife of Mayor Veloso, and driver Edmel Bacay were unhurt.
Politics is one of the angles being seen as a possible reason for the ambush as the vehicle where they were on board is among the service vehicles being used by Mayor Veloso.
During the burial, the said vehicle was used as a lead car to remind the public of the gruesome incident that shook this town and the rest of the third district of Leyte.
The funeral motorcade started from the ancestral house of the Veloso in Barangay Linao then passed its way to Tabango going to Villaba whose mayor, Carlos Veloso, is a cousin of the slain woman.
She was buried at the family mausoleum.
Mayor Veloso did not issue any statement during the burial of her elder sister though he expressed his gratitude for the support extended to their family of the Villabanons.
Police were seen all over the town of Villaba who came from the regional police headquarters.
During the motorcade, volunteers offered reading materials about the life of the killed retired municipal administrator to people standing along the highway while waiting for the motorcade to pass on their way to Villaba.
Police have yet to disclose their report on the incident.
(ROBERT DEJON)