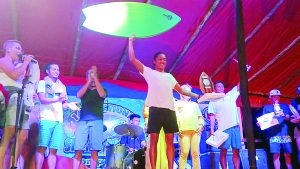 TANAUAN Leyte– The skimboarding competition here in this town was held anew, nine years since it was last staged.
The four-day sports competition, which ended on Dec.30, was participated by several skimboarders coming as far as Mindanao and Luzon.
Mayor Gina Merilo said that she decided to revive the skimboarding competition not only because the said competition originated in their town but more so to encourage tourists to come to their municipality.
At least 12 local government units coming from Luzon, Mindanao, and here in the region participated in the event, Eugene Ramos, event organizer, said.
Tanauan is dubbed as the birthplace of skimboarding in the Philippines and first hosted such an event in 1999 and until 2012.
Tourism Regional Director Karina Rosa Tiopes said that she was glad that the local government of Tanauan revived the skimboarding national competition saying it will help attract tourists and in the process, generate income for the locals.
Tiopes encourages the local government to organize their skimboarding community and to tie up with their office for more trainings and promotions.
"They should also strengthen their promotional campaign for their skimboarding and surfing sites and the services they offered in these areas," she said.
Winners of the competition received cash prizes and trophies.
(LIZBETH ANN A. ABELLA /ROEL T. AMAZONA)