In Northern Samar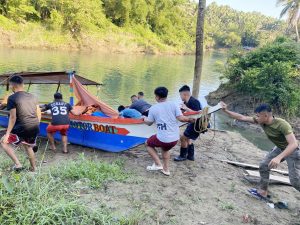 TACLOBAN CITY –Students from a remote village in Las Navas, Northern Samar have now no reason to be absent from their schools located the town proper.
This after the Sangguniang Kabataan (SK) in Barangay San Isidro, led by its chairman, Elmer Pajanustan bought a motorboat sourced from their funds to help ferry students from their village to the town proper.
Launched last month, Pajanustan said that he is thankful that their village officials supported his idea.
The SK council had spent P120,000 to buy the motorboat and for repainting. They source it from their standing fund amounting to P400,000.
Pajanustan, in an interview over Facebook messenger, said that it takes an hour of travel from their village to the town proper of Las Navas.
The village has around 40 students who are studying in Colegio de Las Navas in the town proper and at the University of Eastern Philippines – Catubig located at the adjacent town of Catubig.
These students would sometimes need to fight for a seat in the motorboat each time they would return home or go back to the town proper but this is no longer happening since they started operating in April.
Pajanustan also shared that during his college days there were times when he could only go home once a month because on financial problem, which this project hope to address.
He graduated in 2022 with BS in Criminology course at the UEP Catubig campus and currently preparing to take the criminology board examination this August.
From P70 usual fare, students are now saving a lot since they only collect P25 which they use to buy for fuel and for maintenance of the boat, Pajanustan said.
"Education is not just shaping your future it is a foundation that nobody can break. It is important nowadays to earn a degree to have a brighter career," Panajustan stressed, emphasizing the importance of education reason he pushed for the project.
Lea Belle Lebico, a first year at the Colegio de Las Navas taking Bachelor of Science in Computer Science, said that for a poor student like her who only has a P500 allowance every week, the project is a big help because this assures her that she could go home every week.
"Because of this SK program, we now have the strength and reason to continue our studies. Even though we came from a hinterland barangay, we do not longer need to have a big sum of money just to go home and be with our families every weekend," Lebico said.
Since the boat's primary purpose is to cater to college students, they are only using it every Friday to pick up students who are going back to their village, then on Sunday afternoon to send them back to the town proper to make sure that they won't be late for their Monday class.
But during emergency cases, residents may also use the motorboat to transport their patients going to the town proper or back to their village.
"Actually, the SK motorboat is also intended for emergencies. A year ago, there was an incident in our village, a pregnant woman who was about to give birth but died during labor, because our barangay LGU does not own a transport service that can be used on emergency cases," Pajanustan shares.
Renting a commercial boat from their village going to town proper would cost P2,000, a huge amount for mostly poor residents of the village.
"We can use the SK motorboat in emergencies cases like in transporting residents that need to be treated in a medical facility," Pajanustan added.
Pajanustan hopes that the next set of SK officials in their village will provide a budget for its maintenance so students may already ride it free and no longer pay a fare.
(ROEL T. AMAZONA)