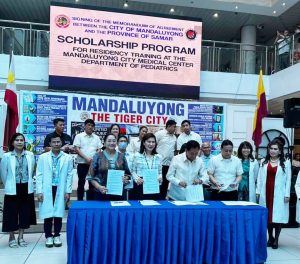 TACLOBAN CITY – The provincial government of Samar and the city government of Mandaluyong signed a memorandum of agreement (MOA) for a scholarship program for residency training of doctors from Samar at the Mandaluyong City Medical Center (MCMC).
Samar Governor Sharee Ann Tan and Mandaluyong City Mayor Ben Abalos signed the agreement on May 16.
Under the agreement, doctors from Samar who will undergo the residency training will particularly specialize in pediatrics.
Gov. Tan said that agreement will be a good opportunity for their doctors to be trained further in pediatrics considering that health access is one of the major problems of Samar.
"Samar needs technical people. Most doctors do not want to work in Samar. They want to stay in urban areas because of the opportunity there," Gov. Tan said.
"But this time around with the help of Mandaluyong city, our doctors are going to be trained so that when they return to the province they will render better services," she added.
Tan added that they chose pediatricians to undergo the residency training because of the situation of the province wherein most families consist of more than five children.
"That is why it is really important for the province to have a trained and able pediatrician," she stressed.
Under the MOA pediatric doctors from Samar will undergo a three years residency training at the MCMC and will receive a salary as contractual medical officer III, including benefits and accommodation for three years.
This residency program is also open to doctors who have roots from Samar province. Those interested to avail the program have to signify their interest to the MCMC or to the provincial government.
Tan added that she hopes after the residency training, the doctors will render their service to any hospitals under the management of the provincial government.
(ROEL T. AMAZONA)