TACLOBAN CITY– Senator Mark Villar said that he is optimistic that his bill institutionalizing the 'One Town, One Product' policy will help boost small entrepreneurs of the country.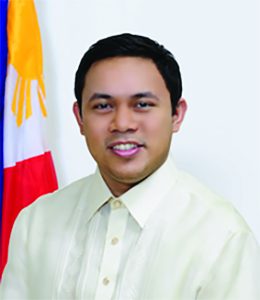 Villar, who chairs the committee on trade, commerce, and entrepreneurship at the Senate, said that once his proposed measure become into law, this will pave the way for local products to be introduced even to the world market.
The measure is contained under Senate Bill Number 1594.
"The OTOP Philippines Program will put our nation on the international stage, showcasing the diverse range of high-quality products that our towns and municipalities have to offer," he said during a media interview on August 10.
"This program will not only boost our local economies but also serve as an inspiration for other nations striving to uplift their MSMEs (micro, small, medium enterprises) and promote sustainable development," Villar added.
The senator was interviewed before he left for Maasin City to attend its 23rd city founding anniversary.
According to Villar, the measure aim to showcase every town's distinct product, create sustainable livelihood, and contribute to the nation's prosperity.
Meantime, the senator said that he is also pushing for the enactment of the Internet Transactions Act (ITA) which he authored and contained under Senate Bill 1846.
"It's very important because we now have a digital economy. We have lots of transactions online and we need to protect our online consumers," he said.
The bill aims to require digital platforms and online merchants to register their businesses with the proposed E-Commerce Bureau.
The bureau shall also receive and address consumer complaints on internet transactions.
Under the bill, the secretary of the Department of Trade and Industry has the authority to take down or ban online platforms, especially if the products or services are classified as dangerous.
(LIZBETH ANN A.ABELLA)