TOLOSA, Leyte– Improving the condition of the country's farmers is among the priorities of the administration of President Ferdinand Marcos, Jr.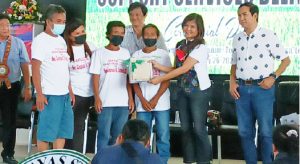 Thus said presidential sister, Senator Imee Marcos who was in this town on Thursday afternoon to lead in the distribution of certificate of land ownership awards (CLOAs) to 1,006 farmers coming from the six provinces of the region.
The senator, in her speech, said that these farmers can be assured that under the administration of her brother, their welfare will be one of his utmost concerns, and eventually will result in their total 'emancipation from the burdens of the soil,' which she said was the reason why their late father, president Ferdinand Marcos signed PD.27 or the emancipation of tenant.
The senator said that Pres. Marcos has just signed an executive order on writing off on payment of amortization and interest on loans for agrarian reform beneficiaries.
Similarly, she also filed bills seeking for total write-offs of all the debts of agrarian reform beneficiaries, the senator added.
"Ngayon, importante na maibigay ang individual titles sa bawat isa. Inyo na sa wakas at susunod na ang mga batas na gagawing zero ang utang ng bawat usa. Wala ng utang ang ating mga beneficiaries," Marcos said in her speech.
DAR Sec. Conrado Estrella III also said that the Marcos administration is ready to provide all the needed assistance for the farmers like construction of farm-to-market roads, irrigations, fertilizers, and equipment like tractors.
Eufemia Balendo,74 from Tunga, Leyte said that she is happy to finally receive the CLOA with her name written on it as the rightful owner.
She said that with the land she has been tilling for decades now under her name, she could pass it on to three children.
"I am grateful to our government for giving us the title. We have been waiting for this for more than 30 years now," Balendo said.
Among those present were Leyte Governor Carlos Jericho Petilla, Rep. Jude Acidre of Tingog party-list, and DAR regional officials.
(JOEY A. GABIETA)