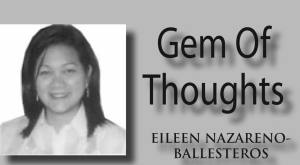 While Supreme Court officials call on the trial court employees' understanding of the imperative in taxing the benefits and allowances they receive, the former assured that the higher office is working on some reforms for the welfare and betterment of the judiciary workforce. Imposing withholding tax on these remunerations is in faithful compliance of the directive of the Bureau of Internal Revenue.
At the 16th National Convention and Seminar of the Philippine Association of Court Employees in Davao City last week, Supreme Court Associate Justice Jose Perez and Court Administrator Jose Midas Marquez underscored some improvements in the administrative processes that are to benefit every employee of the Supreme Court primarily, from the first level courts to the High Tribunal. This is vis-à-vis the sad fact that trial court employees, from the justices down to the judges and the rank-and-file will not anymore be receiving these monetary benefits and allowances in full amount.
Justice Perez disclosed the effort being done by the SC for now, seeking reconsideration from the taxing agency on these fiscal impositions. Such Motion for Recon is yet to be resolved by the BIR, thus tendering a continued enforcement of such withholding tax on all bonuses and allowances and be reflected in the income tax return. In the meantime, he urged on all trial court employees to take on the positive work attitude such as "Be Informed, Be Inspired and Be Industrious."
Court Ad Marquez wowed the court employees in the convention with his report that finally the SC has got a health provider for the lower courts following a successful bidding. He did not, however, disclose the name the health provider pending approval of the award to the winning bidder. This, he said, is aptly attributed to the efforts of the immediate past president of PACE, who now holds the position of executive vice-president of the organization.
Deputy Court Administrator Thelma Bahia, DCA Raul Villanueva and SC Finance Management Office chief Caridad Pabello spent time with trial court employees to give updates on the reforms being instituted in the judiciary from personnel to property and financial concerns.
Government Service Insurance System representatives disclosed another scheme that will hopefully ease the billing and collection system involving loans and premium payments of members and pensioners. To be implemented starting this July, the electronic or e-bcs, a web-based application, is introduced to enable GSIS to send its billing statements for premium and loan amortization to government agencies electronically, and accept payments online. This will hopefully reduce the risk of late posting and delayed payments due to the insurance agency.
They stressed the need for active members to take note of their respective business partner number which is among the data required by the GSIS in processing loans, such as consolidated loans, and other transactions with the agency.