TACLOBAN CITY – Eleven contingents from various municipalities and cities in Samar province will be showcasing their respective festivals for the Tandaya Festivals of Festival on Sunday (August 6).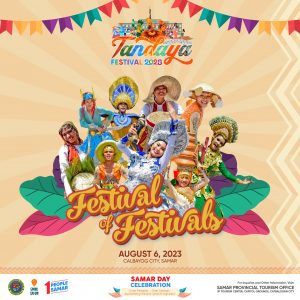 Calbayog City will play host to the province-wide festival competition, one of the highlights of the 182nd Samar Day celebration this August 11.
Tandaya Festivals of Festival showdown is scheduled at 8 am at the Northwest Samar State University and will be followed by a parade at 1 pm.
Competing contingents are Padaraw Festival of Tagapul-an, Manarabo Festival of Hinabangan, Makarato Festival of Matuguinao, Kagat Alimango Festival of Sta. Margarita, Hadang Festival of Calbayog City, Tinago Festival of Tarangnan, Banig Festival of Basey, Bangahon-Karabaw Festival of Gandara, Pahoy-pahoy Lulugayan Festival of Calbiga, Kinarawgan Festival of Marabut, and Manaragat Festival of Catbalogan City.
Winners for this year's Tandaya Festivals of Festival will receive P500,000 for the champion, P400,000 for the 2nd placer, and P300,000 for the 3rd place.
Non-winners will receive P100,000 as a consolation prize.
The three top winners will perform their winning festival ritual dance during the Samar Day celebration parade in Catbalogan City this August 11.
Meanwhile, 11 local government units will be competing at the Parade of Floats competition on the Samar Day celebration.
These LGUs are the cities of Calbayog and Catbalogan, and the municipalities of Hinabangan, Matuguinao, Pagsanghan, San Jorge, San Jose de Buan, Matuguinao, Motiong, Sta. Margarita, and Sta. Rita.
Winners for the float parade will receive P300, 000 for first prize, P200, 000 for the second prize, and P100, 000 for the third prize, and the consolation prize of P50, 000 for non-winners.
The festival king and queen will also receive cash prizes of P10, 000 each for the winners, with 2nd and 3rd runners-up receiving P7,000 and P5, 000 each respectively.
Moreover, 18 lovely ladies from Samar province are vying for the most coveted 'Mutya han Samar' crown.
Crown at stake are the 'Mutya han Samar', 'Mutya han Samar Tourism', 'Mutya han Samar Environment', 'Mutya han Samar Heritage', and' Mutya han Samar Youth'.
Winners will receive cash prizes.
Samar Day was previously celebrated every November 10 to commemorate the election of the first officials of the province, then during the martial law era, the celebration was moved to August 23 and in the late 1970s, officials change the date to August 11.
Malacañan has already issued Presidential Proclamation No. 284 signed by Executive Secretary Lucas Bersamin declaring August 11, 2023 as a special non-working day across the province.
(ROEL T. AMAZONA)