As a measure against the COVID-19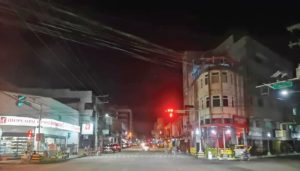 BY: JOEY A. GABIETA, LIZBETH ANN ABELLA
TACLOBAN CITY- For 23 days, this city, the regional capital of Eastern Visayas, would be effectively in a lockdown as Mayor Alfred Romualdez steps up measures to control possible entry of the dreaded coronavirus disease 2019(COVID- 19).
This means, the movements of the people, both the residents and even those coming from outside Tacloban specifically mentioned under Executive Order 2020-03-107 issued by the city mayor on Wednesday(March 18), are to be monitored or restricted.
All the five exits and entry points within the city are to be in full alert, manned by policemen and personnel of the city government, while the 'intensified restrictions' are in effect.
This early, Mayor Romualdez issued an appeal to the public to extend their whole and full support and cooperation to these measures.
The city mayor defended his decision as a way 'to control the spread of COVID-19(coronavirus disease 2019), mitigate its effect and impact to the community, or curtail/eliminate the threat.'
He said that measure also aim to lessen the influx of people coming to the city which poses risk of possible spread the virus thus the prohibition of people coming outside the city.
At present, Tacloban City remains to be COVID-19 free though the City Health Office reported that there are 15 persons under investigation (PUIs) and 1,379 persons under monitoring (PUMs).
During the entire lockdown period, all business establishments in the city are mandated to cease operations save for hospitals and specialty clinics; providing basic services like power and water utilities, internet service, media, cable and telecommunications; restaurants, coffee shops, and food or snack houses though they are to observe take out or drive-thru orders; supermarkets, groceries, markets, pharmacies and hardwares;banks,and money remittance centers; laundry services, water refilling stations; gasoline stations; and funeral parlors.
Public transports going to the city are also banned but those servicing within the city are still allowed but they are only to carry half of their original capacity of passengers as part of the social distancing policy.
Government offices located in the city would still continue though they are to practice shorten period of work and only skeletal force are to report for work. Work for home is encouraged during the lockdown period.
The suspension of classes across the city, which started on March 13 will end on April 12, the day the lockdown is supposed to be lifted.
Mayor Romualdez also authorizes all the barangay leaders of the city to have their own quarantine systems like having their own checkpoints to ensure the movements of their people are restricted.
Starting on Thursday (March 19), barangay officials using their public address system, informed their respective inhabitants that the city would be in the lockdown which restricts the movement of the people.
As part of their measures, practically all of the city's 138 barangays would be issuing their quarantine passes wherein only one member of the household would be allowed to go outside their respective barangays to do some errands or buy items outside their areas.
Curfew has been in place since this week starting from 8 pm to 5 am, regardless of age.
While the 'intensified restrictions' are in full force, non-residents could still be allowed entry to the city provided that they are doctors, nurses and in medical professions working within Tacloban; national government officials and employees; members of the Philippine National Police, Armed Forces of the Philippines, Bureau of Fire and Protection and Coast Guard; workers in courier, cargo and delivery services; those availing medical services and surgical operations in the city; and media practitioners.
All the workers or personnel of these facilities or establishments are mandated to wear face masks and limit their numbers and always present their IDs or employment certification.