TACLOBAN CITY-To provide better and enhance transportation facilities, the Leyte Second District Engineering Office (L2DEO) of the Department of Public Works and Highways (DPWH) allotted P38.96 million under its preventive maintenance program to improve the Palo-Carigara-Ormoc road, particularly in Barangay Sto. Niño in Capoocan town.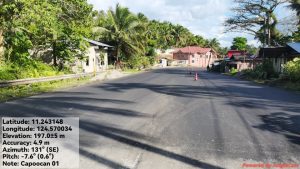 District Engineer Leo Edward Oppura said that this is one of the priority projects of the district office since the Palo-Carigara-Ormoc road network is a busy road catering to a large volume of vehicles to and from the cities of Ormoc and Tacloban and the Biliran province.
The project's budget includes the reconstruction of damaged concrete pavement in intermittent portions and the application of one kilometer in four lanes of asphalt overlay to provide seamless and convenient travel.
Provisions for reflectorized thermoplastic markings will be applied to improve nighttime visibility and help minimize lane-departure crashes.
The preventive maintenance projects of the DPWH aim to prevent widespread deterioration of the road surface, thus lowering future costs of re-constructing the entire road pavement.
The project started its construction on February 20, 2023, and is expected to be completed by next month.
Palo-Carigara-Ormoc Road, under the supervision of L2DEO, measures 41.415 kilometers, from Jaro to Capoocan in Leyte, sharing the boundaries of Leyte's first and fourth district engineering offices.
(LIZBETH ANN A. ABELLA)