Prices of rice still sold at high cost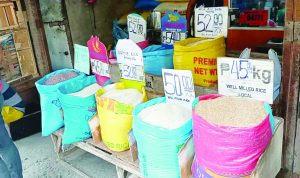 TACLOBAN CITY– Despite of the order from Malacanang for rice traders and sellers to peg their rice prices at P41 per kilogram for regular milled and P45 per kilogram for well-milled, prices at the public market in this city continue to be sold at higher prices compared to the mandated prices.
This after traders and sellers pulled out the regular and well-milled rice from their shelves and sold the premium and special rice, both not covered under Executive Order 39, instead.
The said order issued by Pres. Marcos Jr. put a ceiling for regular and well-milled rice which took effect on Tuesday (Sept.5).
A seller, who requested not to be named, said that she decided not to sell the regular and well-milled rice to avoid losses.
"I pulled out all my regular and well-milled rice supplies from the store as I am now just selling the premium rice which is not covered with that order," she said.
She reiterated that following the order would result in their losses.
"(And) if the government will strictly impose to us that order, we might be forced to stop selling rice altogether," the seller added.
At present, she is selling premium rice which ranges from P47 up to P55, depending on the quality or variety of the rice, which were way above the ceiling imposed by the government.
Premium or special rice includes the brand names of Ganador, Jasmine, and Sinandomeng, among others.
On Tuesday, the first day of the effectivity of the order, personnel from the Department of Trade and Industry (DTI) conducted their monitoring at the city's main public market.
It was learned out of the more than 30 rice traders and sellers at the public market, only four were said to have followed the order.
Frederic Dy, president of the Grains Retailers Confederation of the Philippines (Grecon) for Eastern Visayas, confirmed that many of their members are not following the order as they chose to sell premium or special rice instead.
"But personally, I followed the order in support of the President's order and to avoid any penalty," he said.
Dy stressed that once all his current stock of rice or regular and well-milled rice runs out, he will just exclusively sell the premium or special rice.
Dy estimated that he would be incurring losses of at least P300 per sack of rice. "If we will be selling 20 sacks a day, that's a P6,000 daily loss of income," he said.
At present, he has about 500 sacks of rice which are combination of regular, well-milled and premium rice.
He also took a swipe at the promised subsidy as proposed by the government to rice traders saying it's not enough to cover their losses.
"I heard they will just give us a one-time subsidy of P15,000 which is very small an amount compared to our projected losses," Dy said.
Asked to react to the statement of the National Economic and Development Authority (Neda) that the rice cap is just a temporary measure, Dy dismissed this.
"How long this policy will last? And if you are a retailer, how long can you sustain due to losses?" he said.
JOEY A. GABIETA