In the wake of plan to impeach VP Sara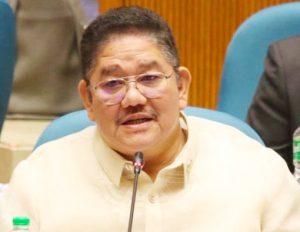 TAFT, Eastern Samar– House minority floor leader and 4Ps party-list Rep.Marcelino Libanan said aside from merits and substance, an impeachment complaint is practically a numbers game.
Libanan made this comment when asked on his reaction to the move of Makabayan bloc at the House of Representatives to file an impeachment complaint against Vice President Sara Duterte.
According to Libanan, who is a lawyer by profession, while he has no personal information on this supposed plan of the Makabayan bloc on this issue, he learned about this on social media.
"While they have the power to do that but we have a rule. We have to look into its form and substance," he said in an interview Sunday(August 27).
"But at the end of the day, it's a numbers game and merit," Libanan added.
To recall, deputy minority leader and ACT party-list Rep.France Castro has threatened to file an impeachment complaint against Duterte who is also the Secretary of the Department of Education over her P125 million in confidential funds last year without alleged congressional authorization.
The Vice President, while she has resigned as member of the Lakas-CMD early this year which is headed by Speaker and Leyte Rep. Martin Romualdez, continues to yield considerable clouts among members of the House of Representatives.
Among her closest political allies at the Lower House, where any impeachment complaint emanates, is former president and Pampanga Rep. Gloria Macapagal Arroyo, herself a subject of impeachment complaints.
Meantime, Libanan led in groundbreaking ceremonies of municipal halls of Taft and Can-avid, both in Eastern Samar on Saturday.
The construction of these municipal halls were facilitated by the party-list solon.
The construction of a municipal hall of Taft was placed at P120 million with the initial fund at P30 million while that of Can-avid need at P140 million with a funding of P30 million for the first phase construction.
Mayors Gina Ty of Taft and Vilma Germino of Can-avid expressed their gratitude to Libanan.
"We cannot afford to construct a new municipal hall if we rely on our own funds. That is why, we are thankful to Rep. Libanan for helping us build a new and modern municipal hall," Ty said in an interview.
It was learned that the fourth-class town has only an annual income of around P150 million, with at least sourced locally.
The town's hall has been in existing for 77 years now undergoing only minor repairs. The proposed site of the new municipal building of Taft was more than 3,300 square meters donated by a family to the municipal government in December of last year.
(JOEY A. GABIETA)