In Eastern Samar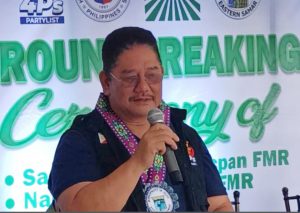 ORAS, Eastern Samar– Residents in eight remote villages of this town are thankful that the government has finally responded to their longtime dream to have a paved road.
On Tuesday (April 11), the 6.8 meters farm-to-market road project had its groundbreaking with Rep. Marcelino Libanan of the 4Ps party-list, officials of the Department of Agrarian Reform (DAR) headed by their regional director Robert Anthony Yu and Mayor Roy Ador leading the event.
Residents from the villages of Iwayan, Minap-os, Nadacpan, Agsam, San Eduardo, Alang-alang, Cadian, and Saruong, where the event took place, are to benefit the P100 million worth project.
About 3,616 farmers from these villages are also to directly benefit from the project to help them transport with ease their farm produce to the market and institutional buyers.
Alang-alang village chairman Jocelyn Cabilan said that once the road project is completed, residents in their village will no longer have to ride a "bote," a motorized boat without an outrigger, when going to and from the town proper.
Travel time to their village takes about an hour depending on the engine of the boat but will now be cut to 50 minutes once the road is completed.
"When there is a typhoon or flooding, the boats cannot travel because of the strong current; owner fears that their boats will sink. This will be a big help because even during rainy season, we can safely travel to the town center to bring our farm products," Cabilan said.
Minap-os village councilor Anthony Montallana added that they had long been waiting to have an access road leading to their village which is also located along the Oras River.
Aside from that, the road could help them in delivering their goods to the market and their children can safely go to school especially those who are in high school and studying in their neighboring villages like Agsam which can be reached by riding a boat.
"The children are using motorboats when going to school which is very dangerous when there is sudden flooding during heavy rain. Once the road is completed, they could go to school and home safely," Montallana said.
For Cadi-an village chairman Benhur Aparra, not only the road project will help them have better accessibility for the transport of goods, accessibility to school and during calamities but this will also help those who are seeking for medical attention safely reach medical facilities.
Cadi-an is the farthest among the eight villages where the farm-to-market road traverses and can only be reached at the moment by an hour-and-a-half boat ride from Oras town proper.
"Right now we're still transporting patients of emergency cases through motorboat which takes us longer time to reach medical facilities but once this road is completed we could bring out patients to the hospital in 30 minutes," Aparra said.
During the groundbreaking ceremony, Rep. Libanan promised to look for more funds for the construction of more farm-to-market roads that will connect other villages of Oras town and will link them to communities in their neighboring towns.
"We will look for more funds to construct roads to link and connect every village not only in Oras but in the entire province of Eastern Samar to spur development and uplift the living condition of our people," the party-list solon said.
Yu, in his message, emphasized that their agency's mandate is not only to distribute lands but also to provide support services to the farmers like the construction of farm-to-market roads.
"Distributing or giving land is not enough. We also need to provide support such as farm equipment and machinery, and farm-to-market roads. This is the best way to help our farmer-beneficiaries; concrete road helps in the development of our ARBs and other farmers by allowing them to efficiently brought to the market their products and reduce the cost of transportation," the DAR regional director said.
(ROEL T.AMAZONA)