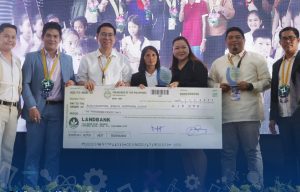 TACLOBAN CITY – An interior village in Northern Samar will be the region's representative for this year's national search for a competition spearheaded by the Department of Science and Technology (DOST) under its community empowerment through science and technology (CEST) program.
The village of Calantiao in Bobon town is the regional winner of the DOST's CEST program which aims to provide livelihood and alleviate poverty in remote communities using technology-based livelihood projects as identified by the communities.
Calantiao, which is an hour away from the town center, is also identified by the Philippine Army as a beneficiary of its community support program (CSP)being an armed conflict related to insurgency.
Nilda Sapatos, Calantiao barangay chairperson, said that they received three projects from the DOST that are now being enjoyed by her people since 2021.
These are the rice mill, water refilling station, and Starbooks, a standalone offline library with a total amount of P500,000.
The rice mill solves the woes of the farmers on the high cost of transportation to the town center where they usually spend P70 per unhusk rice to transport to the rice milling station located in the town proper.
Aside from the cost of transportation, they also need to pay P4 per kilo for every rice milled.
"Now that we already have a rice mill in our village, farmers only spend for the cost of milling which is only P3 per kilo," Sapatos said.
The water refilling station, on the other hand, address issues pertaining to water-related health concern that affect most of their children.
Sapatos said that a common health problem related to water in the village is diarrhea.
The source of the water for their refilling station is the Level II potable water system project worth more than PP4.8 million funded under the 2021 Local Government Support Fun – Support to Barangay Development Program (LGSF-SBDP).
"Our village is thankful to the DOST for the three CEST projects that they had given us because of its great impact to the lives of our people," Sapatos said.
The community received P10,000 cash prize for winning the CEST program.
They will be representing the region at the national search, which will be held this November 25, 2023 at the Iloilo Convention Center, Iloilo City.
Ramil Uy, DOST Eastern Visayas regional CEST coordinator, said that Calantiao was chosen to be part of the program after their central office pledged to the Office of the President to support programs and projects implemented under the National Task Force to End Local Communist Armed Conflict.
"We want to address the socio-economic issue confronted by the village so that they will no longer be influenced and give support to the left-leaning group," he said.
(ROEL T. AMAZONA)